For Brands: How to Find the Best Influencers?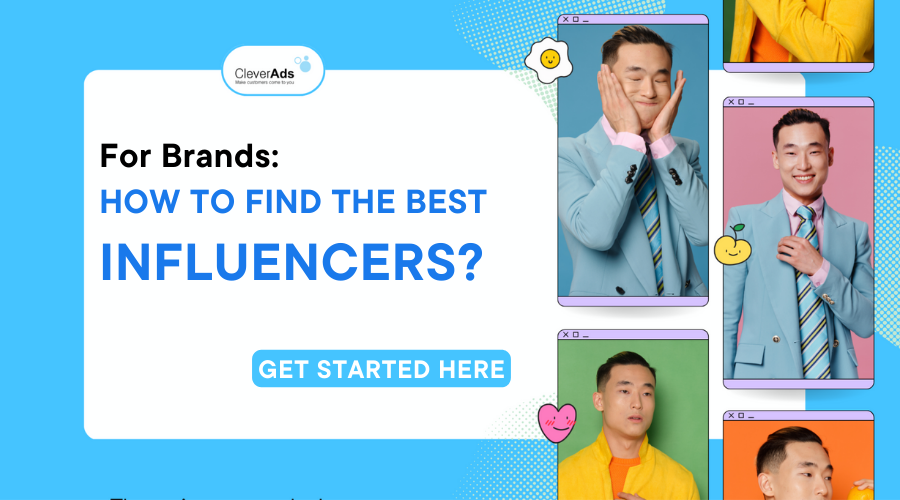 The influencers industry is estimated to be worth over $100 billion. This same factor is also changing the way brands launch campaigns or promote their products.
But a "successful" campaign takes more than just signing someone with a large following.
If you partner with the right influencers, businesses will be able to reach their target audience, increase engagement, and build brand awareness. So, how do you find the right influencers for your brand?
CleverAds shares with you our top 11 tips to help find the right influencer for the next campaign for your business.
Find Influencers For Your Brand's Next Campaign with 11 Tips
Define your Goals

Set up the right Influencer Portrait

Using Influencer Database Tools

Observe influencers who have been mentioning your brand

See who your Target Audience interacts with

Towards Nano Influencer

Follow relevant Hashtags

Subscribe to Podcasts, Events, Newsletters and Industry Blogs

Keep an eye on your Competitors

Track KPIs on Influencer campaigns

Listen and ask for opinions from the public
Read more: Infographic: 8 steps to implement an Influencer Marketing campaign in 2023
Read more: All About KOL Platform: Pros and Cons
Tip #1: Define your Goals
The ultimate goal of brands when partnering with influencers is to reach new audiences.
Later influencer marketing expert Adrienne Sharpe says setting goals is key to getting the results you want.
"You are essentially paying influencers to reach their audience," Adrienne explains.
"So you have to be clear about your campaign goals — and what you expect to achieve. This will help them create content that is mutually beneficial."
Looking to build brand awareness? Increase sales? Generate more leads? Think about how to leverage influencers in your overall social media marketing strategy and then set SMART goals.
NOTE: The price of influencer booking can cost tens to hundreds of millions. Therefore, determining your budget at an early stage is also very important.
Tip #2: Set up the right Influencer Portrait
Knowing who your "Ideal Influencer" is will help you identify what you are looking for and narrow your scope. Here are some questions you might consider in this case:
What is your ideal influencer niche?

Who is their audience?

What is their personality type and how does it fit into your brand voice?

What are their values and do they align with your brand?

Visualize as much detail as possible. And always keep your target audience in mind.
Be realistic when choosing influencers to work with. If you're an environmentally conscious brand, don't partner with influencers promoting fast fashion brands.
Tip #3: Use Influencer Marketing Platforms
Consider using third-party tools like Clever Group's Revu Platform to easily discover and connect with creators and influencers for your next campaign.
Revu Platform is Korea's leading Influencer Marketing platform from REVU Corporation Korea. Up to now, REVU Platform has set foot in 07 Asian countries.
With the advantage of technology & intelligent processes, Revu helps businesses deploy campaigns quickly, on a large scale and at the lowest cost.
Tip #4: Observe influencers who are already mentioning your brand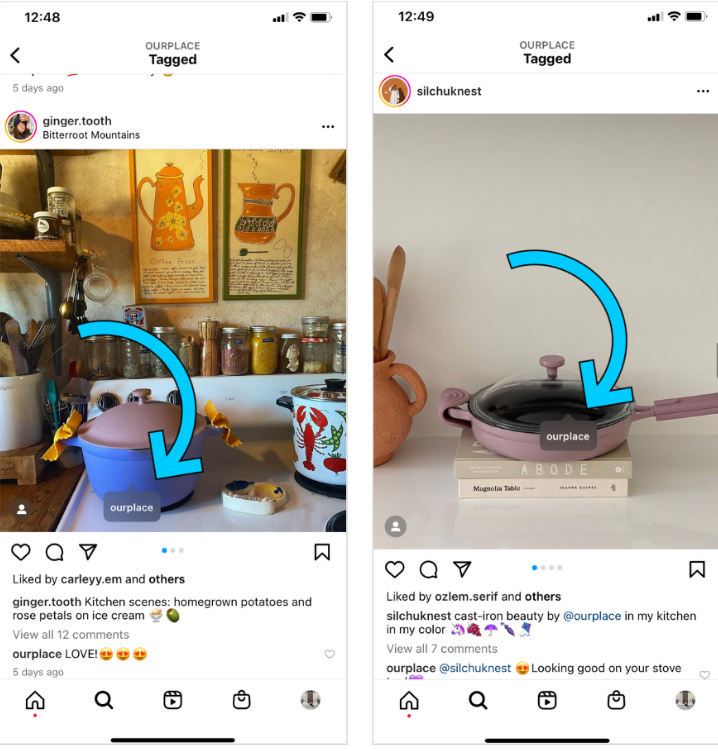 "When you find influencers who are already talking about your brand, it's easier to get potential partnerships," says Kurtis Smeaton, Influencer and Partner Marketing Manager at Later.
"Of course, you need to test them first," explains Kurtis. And if they align with the brand, that increases the authenticity of the content."
"Their paid content will be more likely to impact their audience even more because they already have a certain level of trust from their followers."
TIP: Take the time to regularly monitor your branded posts, comments, messages, and hashtags to find influencers who have engaged with your brand.
Read more: Advancement of Advertisement since Pandemic
Tip #5: See who your target audience interacts with
Finding the right influencers for your target audience is an important step in the search process.
To do this, look at your current community. Choose from 10 to 15 followers that represent your target audience and consider the following factors for them.
What kind of creators are they following?

What is their niche?

Do you see any popular trends in their content?

How do they align with your brand?
Understanding your audience's interests is an important step in building your influencer profile (see tip #2).
Tip #6: Aim for Nano Influencers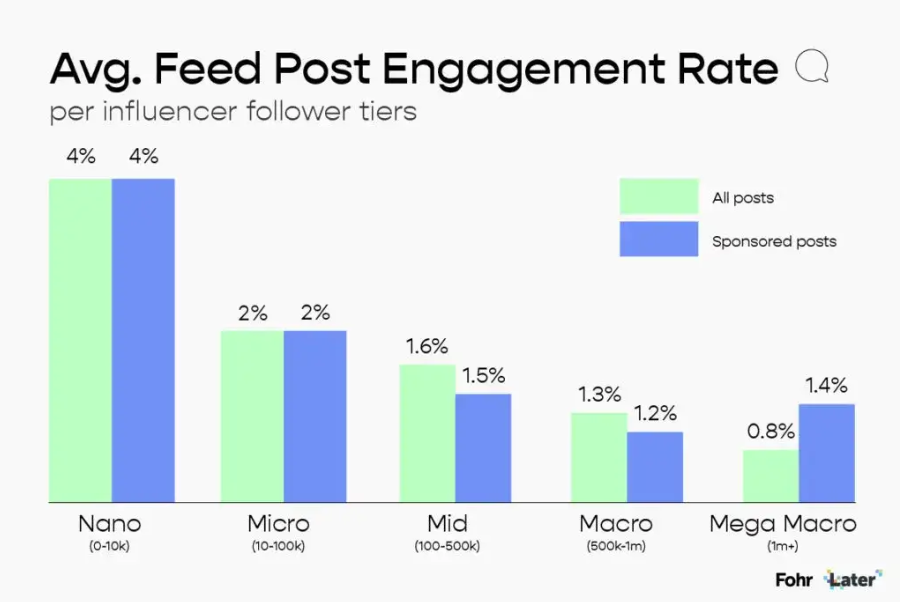 Engagement is always more important than followers.
In Later x Fohr's 2021 Influencer Marketing Report, nano influencers — those with fewer than 10,000 followers — have the highest average engagement rates.
Working with multiple Nano Influencers can be an effective strategy if you are looking to reach a small niche.
But if you don't have the ability to coordinate with dozens of Nano Influencers, finding and working with a smaller number of Micro Influencers can also be a great option.
Tip #7: Follow relevant Hashtags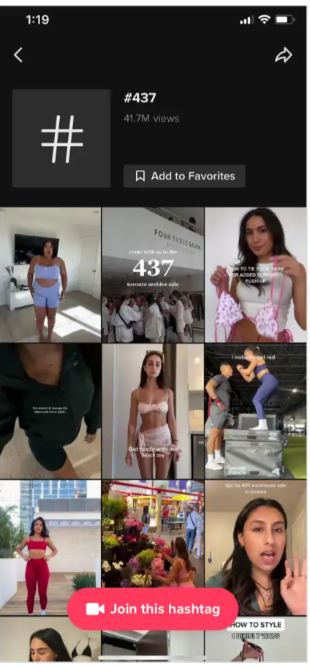 Tracking your brand's hashtags or even the ones you use often can be especially helpful in finding creators for your next campaign.
Swimwear and lifestyle brand, 437, encourages users to use the hashtag #437 on both Instagram and TikTok:
And the brand's hashtag has garnered more than 40 million views on TikTok alone — with thousands of influencers and creators tagging them in posts.
Tip #8: Subscribe to Industry Podcasts, Events, Newsletters and Blogs
Working with influencers and content creators who are experts or KOLs in your industry can also create successful campaigns.
And expertise doesn't necessarily mean a high number of followers — it's about high engagement, trust in the creator's thoughts and views.
To find those celebrities, pay attention to events, podcasts, blogs, and newsletters in your industry. Look out for creators who regularly conduct interviews, have an engaged audience, and provide value to the community.
Tip #9: Keep an eye on your competition
While you should never copy someone else's marketing strategy, keeping an eye on your competitors can help you understand what's hot and popular—and what's not.
Observe which influencers have left comments on your competitor's posts or tag them in content. Why? Because there's a good chance they'll like your product, too.
In addition, keeping an eye on their competitors will help you identify influencers that may cause conflicts of interest for businesses on both sides.
Tip #10: Track KPIs on Influencer Campaigns
Evaluating Influencer metrics is crucial in determining if they can help you achieve your goals.
Once you've found an influencer you're interested in, CleverAds recommends doing your research before approaching them.
Take a look at their followers and the comments on their posts.
Are they bots?

Are there many spam accounts?

This will help you gauge the authenticity of their community of followers.
Go through the person's past posts, do it on Google, and ask your acquaintances in the influencer marketing industry for the most unbiased reviews of them.
Tip #11: Listen and ask for opinions from the public
Who better to ask about future campaigns than your own community?
Your followers can follow a lot of other brands and influencers. This means they can quickly tell you who they want you to work with.  One of the best ways to do this is to label your Instagram Stories questions or TikTok video questions.
Asking for input from the community can help you uncover ideas that surprise you.
With these 11 tips, CleverAds hopes it can help you find the right influencers for your next campaign.
If your business needs solutions for Digital Marketing, please contact CleverAds to get support in the shortest time.