All About KOL Platform: Pros and Cons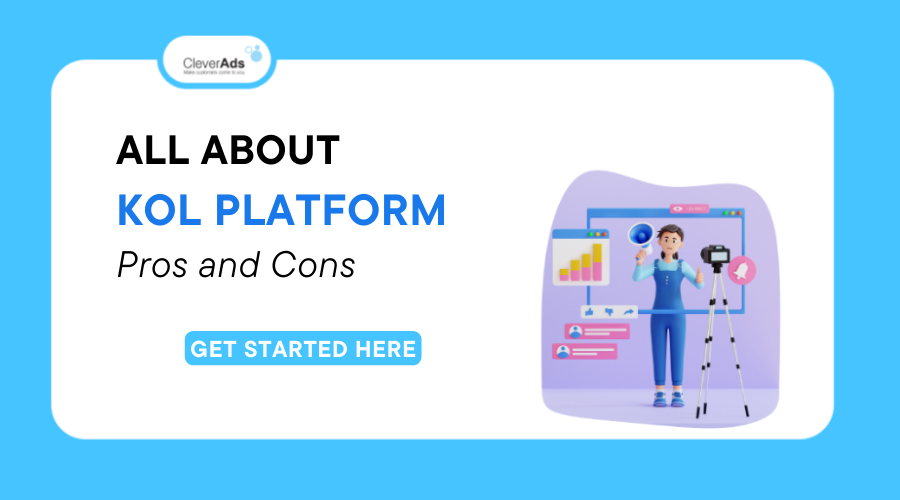 What is KOL Platform? KOL Platform is a useful tool to help advertisers connect with affiliates and increase advertising effectiveness on social media platforms. Learn about Kol Platform with CleverAds in the article below.
1. What is KOL Platform?
KOL Platform (KOL stands for "Key Opinion Leader") is a platform that connects brands and influencers in the online community, called KOLs. KOLs are big influencers in the online community and are often followed by millions of people.
KOL Platform provides a platform for brands to find and contact the right KOLs to promote their products or services on social networks such as Facebook, Instagram, Youtube, TikTok and WeChat.
The platform also provides tools to help brands manage their KOL marketing campaigns, from choosing the right KOLs to tracking campaign effectiveness.
The use of KOL Platform helps brands save time and costs when searching and communicating with KOLs, and helps increase the effectiveness and accuracy of KOL marketing campaigns.
2. Features of KOL Platform
KOL Platform is a platform for advertisers and marketers to connect and find the right KOL (Key Opinion Leaders) or influencers to promote their products or services. Here are some key features of the KOL Platform:
Finding the right KOL
  KOL Platform provides search engines to help users find KOLs that match their needs, including field, audience, number of followers, ..
View information about KOL
The KOL platform allows users to view detailed information of each KOL, including social media accounts, number of followers, engagement rate, etc.
Read more: Donna Chang's grand launch of their first physical store in partnership with Clever Ads and REVU Philippines
Campaign Management on KOL Platform
The KOL platform provides tools for users to manage their advertising campaigns on various KOLs, including campaign building, KOL communication, payment management, etc.
Measure effectiveness
  KOL Platform provides tools for users to measure the effectiveness of advertising campaigns on KOLs, including views, interactions, clicks, ..
Create and manage a list of favorite KOLs
 The KOL platform allows users to create and manage a list of favorite KOLs
3. Popular KOL Platforms
3.1. Revu – content marketing platform x connecting KOLs
Revu is an innovative content marketing platform that connects businesses and brands with social media influencers. The model combines 4 main elements including content marketing, social marketing, influencer marketing and word of mouth to help take advantage of diverse and creative content sources; the spread of social networks; influence of influencers and the effect of word of mouth marketing.
As a result, Revu can automatically generate thousands of review content, provide real-time results reports, and bring convenience to brands that want to increase brand exposure quickly. Currently, this platform is being deployed by many big brands such as Sendo, L'Oreal, MB Bank, Aha Move, Cho Tot, etc.
3.2. Halago – Including AI technology with KOL Platform
Halago is a platform that connects brands with KOLs and Influencers to increase brand awareness.
With a vast network of over 40,000 Influencers, 6,000+ KOLs and 100+ A-Stars, Halago has the ability to connect and select the KOLs and Influencers that best suit its brand.
The special feature of Halago is the application of AI technology in building the platform. As a result, both brands and KOLs, Influencers can monitor and evaluate the effectiveness of ongoing campaigns quickly and accurately.
Besides, Halago's network of KOLs and Influencers is filtered and selected according to customers' search requirements, helping them save a lot of time and cost in choosing the right partner.
With experience in booking KOLs and Influencers, Halago has successfully cooperated with nearly 500 brands. Halago is one of the most popular KOLs booking platforms in Vietnam.
3.3. AnyTag – a platform that integrates marketing KOLs and social media analytics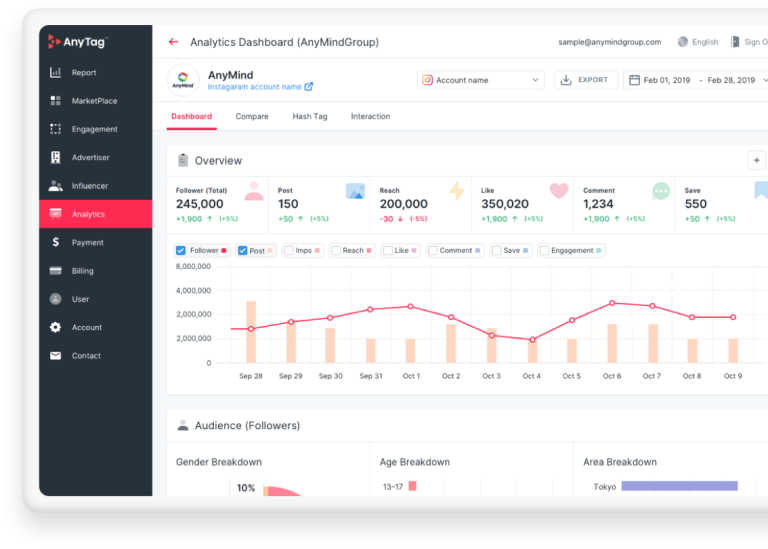 AnyTag is a Japanese-created influencer marketing platform that provides an integrated solution for influencer marketing and social media analytics.
In particular, this platform allows customers to activate, manage and track influencer marketing campaigns in real time. In addition, AnyTag also continuously offers suggestions on social media opportunities that are right for your brand.
Last June, Any Mind Group added a new feature on this platform, which is lookalike modeling through natural language processing (NLP) and brand recognition that influencers have collaborated with in the process. past.
These enhancements are designed to make influencer marketing easier and more effective.
3.4. Hiip – KOLs booking platform across Southeast Asia
Hiip is a KOLs booking platform, which started in Singapore and then expanded to Vietnam, Thailand and Indonesia. Currently, in Vietnam, Hiip has connected more than 10,000 influencers from 26 fields with a fan base of 5,000 to 2,000,000 people.
Hiip's platform is considered strong in big data technology and smart algorithms. As a result, the platform has the ability to select and recommend the most suitable influencers for brands, check and remove fake influencers, thereby saving brands costs in the process. deployment.
4. Advantages and disadvantages of KOL Platform
KOL Platform is a connection platform between KOLs and commercial brands, aiming to promote products, enhance interaction and attract consumers. However, like every other technology and service, KOL Platform also has its own advantages and disadvantages.
Read more: Decoding "Pain Point" and Examples of Typical Consumer Pain Points
4.1. Advantages of KOL Platform
Provide a variety of KOLs on KOL Platform
  The KOL platform allows brands to access a large number of KOLs from many different fields, helping to increase opportunities to promote products and services to a diverse audience.
Save time and money with KOL Platform
KOL Platform helps save time and costs for brands when there is no need to search and communicate directly with KOLs.
Increase brand credibility
  The KOL platform helps brands reach reputable and well-known KOLs in their field, helping to increase brand credibility and value.
Improve advertising results
  Kol Platform helps ensure that products or services are advertised on the right media channels and to the right audience, helping to increase customer reach and interaction.
4.2. However, KOL Platform also has some disadvantages:
Expense
Using the KOL Platform will cost much more than approaching independent KOLs.
Quality is not ensured
When a brand chooses a KOL, they have no control over the content posted on the KOL's account. If the content is inappropriate or does not perform as expected, the brand can be negatively affected.
Ability to impersonate
  KOL Platform may have impersonated accounts, making it difficult to find and select KOLs.
Not suitable for all professions
KOL Platform is not suitable for all industries, especially those that are not related to social networks or do not have the interest of the online community.
Read more: 32 predictions about Social Media Trends 2023 (Part 1)
Conclusion
However, to be able to make the most of the advantages of the KOL platform, brands need to have a clear and detailed influencer marketing strategy, and also need to choose the right influencers for their brands. . Only when there is a harmonious combination of these factors can influencer marketing campaigns be successful and bring the highest efficiency for brands.