Google Ads – A complete set of effective tips to run in 2023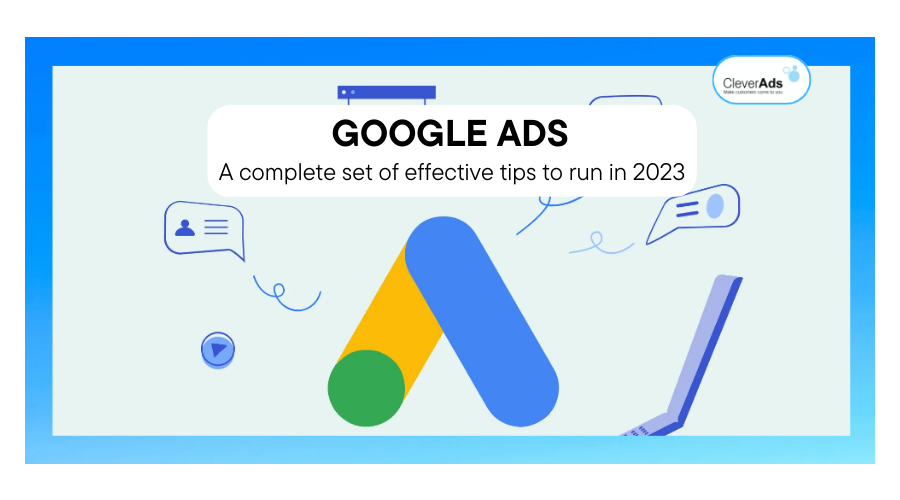 Advertising Google Ads (or Google Adwords) is an indispensable solution for online marketing. So how to run Google Ads effectively? Let's find out with CleverAds now!
1. What is Google Ads?
Google Ads (also known as Google AdWords) is defined as the advertising solutions or campaigns that Google, through its Partners in different countries, uses for businesses to promote products/services. On the Google search engine, Youtube, or other Google website platforms.
Google is the most popular search engine in the market.
If businesses want to reach customers through Google's ecosystem (e.g., Gmail, Meet Google), the only way is to use Google Ads ads. For many businesses, Google Ads advertising is a necessary way to compete with other competitors in the market, not simply to increase revenue or customer reach.
2. How do Google Ads work?
Google Ads operates on a PPC (Pay-Per-Click) model. In other words, businesses target a specific keyword on Google (after researching customer insights) and "bid" for that keyword to compete with competitors who are also targeting that keyword.
The business will then choose a "maximum bid" – the amount the company is willing to pay for an ad. For example, if the maximum bid a business wants to pay is $4, and Google determines that the cost-per-click is $2, the company will win the ad placement bid. However, the business will only get that position if that cost is $4.
There are three types that businesses can choose for bidding prices:
Cost Per Click (CPC): Pay per customer click
Cost Per Mile (CPM): Pay for every 1000 times an ad is shown on search engines.
Cost Per Engagement (CPE): Pays when a user takes a specific action on a business's ad (subscribes to a form, watches a video, etc.).
After a while, Google will scan and calculate the ad's quality score. Quality score is calculated from 1-10, the higher the score, the better the rating will be, and the cost will decrease. The quality score and the bid cost create the ad rank – the position where the ad appears on the search results page.
3. Current types of Google Ads
3.1. Google Search Ads – attract customers to search for products/services
Google Search Ads ads are text ads (hence the other name Text Ads) that you often see on the results pages of the Google search engine. This ad can appear at the top or bottom of the search results page.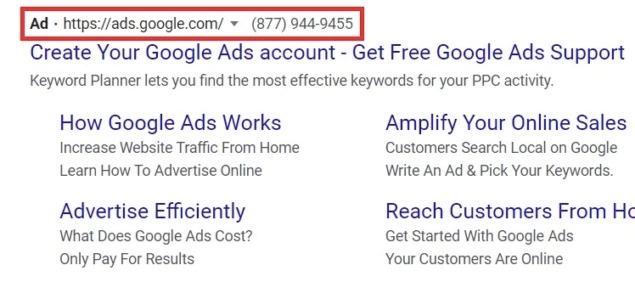 For example, if your business is selling handmade decorations, you can target keywords like:
High-quality decorative handmade items
Cheap handmade decorations
Handmade decorative items imported with imported materials
The ad's position at the top or bottom of the Google search page depends on the business's bid. The higher a business bids, the more likely it will be to show your ad in front of a lead file.
3.2. Google Display Ads – Increase brand awareness
If Google Search Ads ads are text-based (lines of text) and target specific keywords, then Display Ads ads focus on image formats and allow businesses to reach customers who are likely to be interested.
For example, to the products/services of the business but have yet to search for information about them. This way, businesses have a wider reach than just using Google Search Ads ads.
This type of advertising usually appears when customers visit the brand's websites or some of their favorite news sites. They can also appear on your Gmail account, mobile apps, or YouTube videos.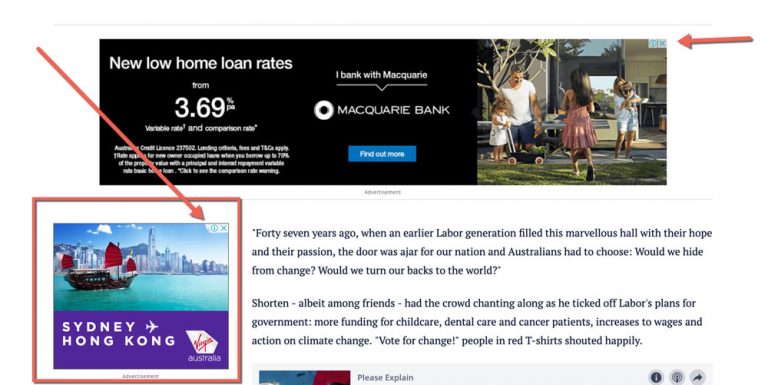 Google Display Ads are most effective if: Businesses want to increase brand awareness and reach potential customers in the first steps of the buying journey.
Usually, to display your business's Display Ads, Google uses the Google Display Network. This is a potential network of more than 2 million websites, apps, and videos, helping businesses reach more than 90% of Internet users worldwide. In addition, the web allows companies to choose where and when they want their ads to appear based on the characteristics of their potential customers (e.g., age, gender, interests, etc.).
3.3. Google Video Ads – Pre-display the target customer file
A relatively common form of Google Ads advertising is Video Ads. Since Youtube is a platform under Google and also acts as a search engine (only for videos), businesses can use Video Ads to target the target audience on Youtube based on videos. That they love and watch. With the Youtube platform having more than 2 billion users worldwide, the reach of Video Ads is immense!
The place where Video Ads ads appear can be before, during, or at the end of YouTube videos and even on the search results page. Here is an example of an ad that appears near the end of a Youtube video: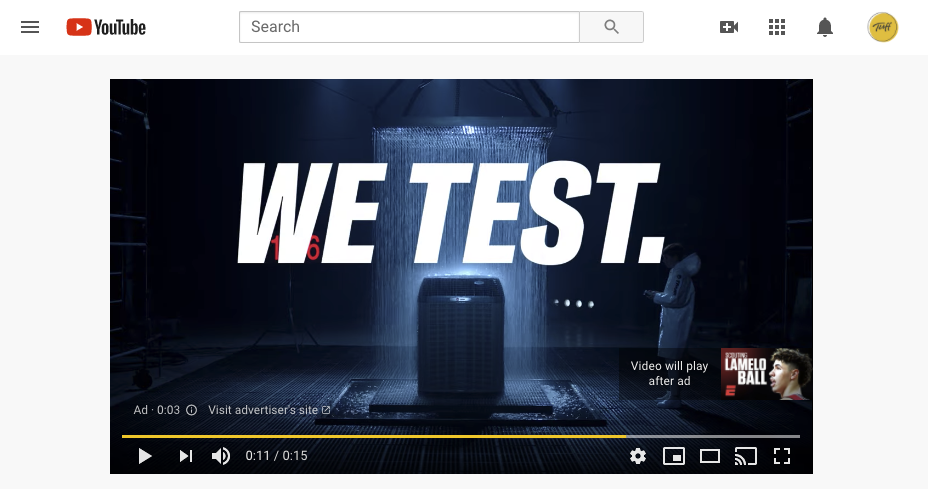 Video Ads will most effectively introduce your products/services to your target or potential customers.
This form of advertising also allows businesses to limit customer files by demographics (demographics) based on age, gender, interests, etc. And to optimize performance, businesses should combine ads Video Ads with Display Ads.
Video Ads that appear in YouTube videos will last about 5 seconds before customers can skip continuing watching the video. Therefore, businesses must pay attention to convey the message quickly and neatly.
3.4. Google Shopping Ads – ads for followers or shoppers
Google Shopping Ads ads are product-based ads. They are displayed when a user searches for specific products on Google.
Unlike regular search ads (Google Search Ads), shopping ads will show an image of that product along with the product name, price, store name, and reviews when customers search. This form of advertising provides the buyer with necessary information about the product before the customer lands on the online purchase page.
Shopping Ads will be most effective when businesses want to increase traffic to their e-commerce sites, thereby increasing sales.
More specifically, Shopping Ads ads will have three types of campaigns:
Product ads: are created based on the product data provided by the business in the Google account.
Display advertising: created by grouping similar items in your store. Customers will be able to compare products and choose the most suitable one.
Advertising products in stock: Beneficial for businesses with brick-and-mortar stores. Ads will use product data from a business's inventory to advertise to customers near that area.
3.5. Google App Ads – Increase App Installs
Suppose your business has a mobile app with Google App Ads. In that case, you can leverage it to advertise your app across Google's ecosystems, including Google Play, YouTube, Google Search, and even Google Display Network. In addition, unlike other formats, businesses don't need to create individual ads to run.
Instead, app ads will be automatically set up in the form of a campaign!
You only need to provide a few lines of description, affordability, language, and geographic location of your target audience. Google Ads will fine-tune these to fit a variety of ads across various formats and networks.
App Ads are most effective when businesses want to promote their company's app installs or app-related actions (recharges, purchase of service packs).
4. What are the benefits of Google Ads?
Google Ads advertising brings many benefits to businesses, especially when science and technology are developing more and more. As a result, the trend of Digital Marketing has become as popular as it is today.
Increase reach to potential customers.
Promoting products and services in many forms and platforms will help increase brand awareness. At the same time, Google Ads advertising allows businesses to limit the geographical location, age, and gender, of customers to reach the right and hit the target customer file.
Provide a flexible marketing platform.
Any business can use Google Ads ads. Not only that, but they are also compatible with many different platforms, and businesses can easily apply multi-channel advertising without worrying about errors.
Precise results to maximize revenue
Google Ads has speedy results and performance reporting tools. From the number of clicks, the keywords visitors visit, and the costs involved, businesses can see the results of their campaigns and find ways to optimize revenue.
Excellent source of access, quality data
Google's market is vast, so the source of access and data that Google Ads can receive is also huge. At the same time, Google is constantly developing and improving algorithms to create the most relevant search results and ads, contributing to reaching more target customers of the business.
5. Steps to run effective Google Ads
Step 1: Create a Google Ads account
The first step a business needs to take is to create a Google Ads account. To do this, visit https://ads.google.com/home/
Then, select "Get Started Now" and sign in to your business Gmail account or create a new one.
After signing in, Google will ask the business to choose the ad's objective. There are 3 options for this item:
Increase the number of calls (Get more calls): Select if the main customers of the business come from this channel.
Increase website sales or sign-ups (Get more website sales or sign-ups): Choose if you want to promote online orders/purchases from customers.
Increase the number of customers visiting the physical store (Get more visits to your physical location): Choose if the business has a store and wants to encourage customers to buy in person.
If your business follows this process, Google will usually closely examine your account. So, in this step, CleverAds will guide you differently.
First, businesses should look to the bottom of the screen and click on the small link that says "Switch to Expert Mode". Then, enter the name and website of the business and select the geographical location where the business wants to reach users.
Step 2 – Select Google Ads campaign
2.1. Google Ads Campaign Objectives
By switching to Expert Mode, Google gives businesses more choices about campaign objectives. Specifically like:
Sales (to increase sales)
Leads (generate more leads)
Website traffic (increase traffic to your website)
Product and brand consideration
Brand awareness and reach (increasing reach and brand awareness)
App promotion (promoting and promoting mobile apps)
Create a campaign without a goal's guidance
Although some of the goals above may align with the direction your business wants, CleverAds advises businesses to choose "Create a campaign without a goal guide". That way, businesses can maintain control of the campaign more easily without being dictated by Google how to do it.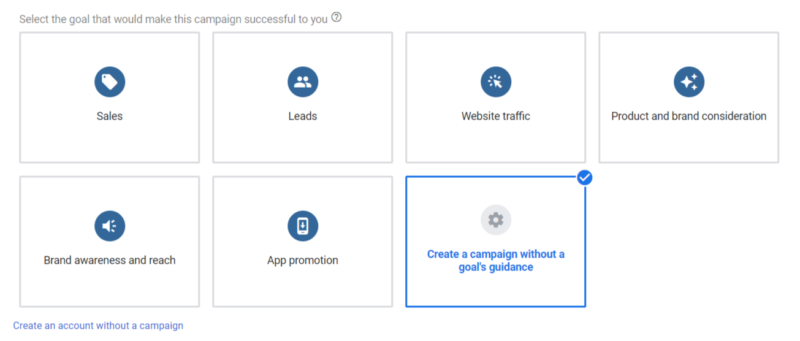 2.2. Type of Google Ads campaign
Next comes choosing the type of business you want to run. Businesses can choose between 5 different campaign types below. There are 2 additional items, Shopping (for shopping) and Discovery (usually advertising in images that stimulate customers to visit the shopping address). However, if your business has just created an account, Google will not allow you to use Shopping and Discovery.
Search Ads (Google Search Ads)
Display Ads (Google Display Ads): The right campaign to increase brand awareness or increase website visits
Video Ads (Google Video Ads)
Mobile App Ads (Google App Ads)
Smart Ads (Google Smart Ads): This type of advertising that businesses will provide Google with some basic data for Google's AI to process and automatically trigger ads effectively. However, this will prevent businesses from maximizing advertising control.
2.3. Results of the Google Ads campaign
Google will ask about the desired result after the campaign is completed. There are 3 items to choose from:
Website visits – Increase website visits
Phone calls – More calls for advice
App downloads – Increase mobile app downloads
After completing the basic information of the campaign, the business will start building an advertising campaign.

Step 3
3.1. General settings
First, businesses need to name their advertising campaign.
Deciding which networks you want your ads to appear on would be best. There are 2 options: Search (search form) and Display (image display format). As mentioned, CleverAds focuses on setting up search advertising campaigns (Google Search Ads), so businesses will tick the box ""Search Network.""
Note: There is a "Show more" link below this section. However, for now, businesses can temporarily ignore it.

3.2. Target customer file
Next, businesses need to limit the target customer file so that Google can ensure that the ad campaign shows to the right audience.
3.2.1. Geographical location
Firstly, businesses can choose a specific geographical location (all over the country/province/city). Then, businesses click on "Location Options – Location Options" to limit the location of the target customer file:
Box 1 (People in, or who show interest in, your targeted area): People in or showing interest in the target area
Box 2 (People in or regularly in your targeted area): People in or regularly in the target area
Box 3 (People searching for your targeted area): People searching for the target area
CleverAds recommends businesses choose box 2. Although this is not an option recommended by Google (recommended), according to studies, this is the right choice for 99% of advertising campaigns. And ads will be shown to customers who are living in that area.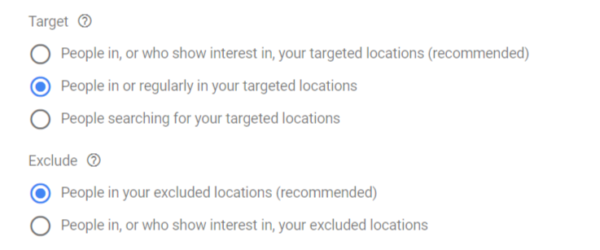 With the remaining 2 boxes, an easy example is that if a business chooses the geographical location of Hanoi and ticks box 1 or box 3, the ad may be displayed to customers in the vicinity or Research flights to Hanoi for tourism or business. This is not the target customer file of the business unless the business is in the travel and tourism industry.
In the Exclude section, businesses can default to excluding people who are not in the target area.
3.2.2. Language
Businesses choose the languages ​​that the target customer file uses. And Google limits your business's ads to only being shown to people who speak those languages. So you need to ensure your ads are in your chosen languages.
3.2.3. Client file
Businesses can customize to add target audiences to their Google Ads ad campaigns. For example, the customer file can be a lead or a target customer. This is an advanced setting. If your business runs ads for the first time, you may only need to pay a little attention to this.
Step 4: Set up a Google Ads budget
4.1. Prepare
To run Google Adwords ads, businesses must own a bank card with an international payment function. In Vietnam, the two most popular cards are Visa and Mastercard. Companies should note that domestic ATM cards cannot run Google Ads ads.
Usually, visa / mastercard cards will have 2 main types:
Debit card: This is similar to a domestic ATM – you must have enough money to use it.
Credit card: This is a credit card with a limit of money in your account for you to use first and pay with the bank later. However, this card type is time-consuming and must be verified according to the process. Therefore, businesses should register for a debit type that will save time.
4.2. Budget
Businesses will proceed to set up the optimal budget for the campaign. Setting a budget is quite simple. Businesses can determine how much they want to invest in 1 month of running the campaign. And divide that by the number of days the business plans to run per month.
For example, if you plan to run ads daily, divide by 30. If you only run ads from Monday to Friday, divide by 20.
4.3. Set up a schedule to run Google Ads
This is when businesses set the date and time they want their ads to be displayed to users. Each company will have a different setting based on its budget and the type of products/services it offers.
4.4. Extensions
The final part of this step is the Ad Extension. Businesses will want to set up all three of these types of extensions:
Sitelink Extensions: Businesses can add up to 4 additional links and ads. These links will take customers to websites depending on the purpose of the business.
Annotation Widget: Helps highlight content such as competitive advantages, discounts, promotions, etc.
Call Extensions – Allows business phone numbers to show with ads. Customers can also call directly from the ad without navigating to your website.
Step 5: Set up Google Ads by group and main keyword
The next step in creating a Google Ads ad is to create an ad group. An ad group is a collection of related keywords used throughout ads.
To choose effective keywords, businesses should start with core products/services. CleverAds recommends that businesses create only one ad group first. Then, businesses use Google's Keyword Planner tool to create the rest. This tool makes it easier for businesses to research keywords and create groups.
Step 6: Create Google Ads
After setting up an ad group, businesses must upload content for that group. CleverAds will explain each element of the ad and some of the appropriate methods.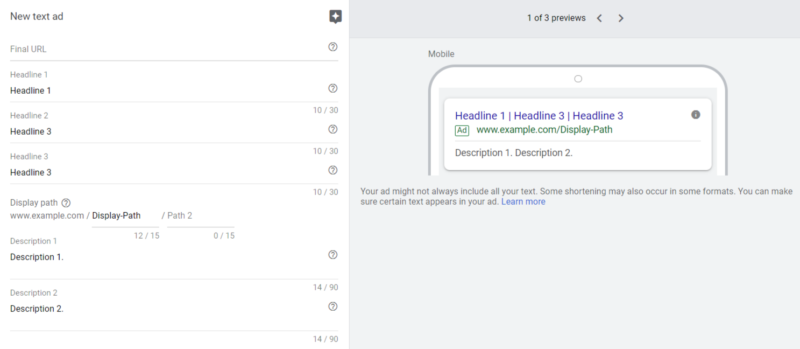 Final URL: This is the website your business's ads will take customers to. The content of this page must be relevant to the product/service being advertised. Without a landing page, the business can lead to the brand's main website.
Headlines: Google allows businesses to show up to three headlines in ads. Each subject line is limited to 30 characters. Therefore, companies need to create a creative and concise message.
Display Path: This is part of the URL displayed with your business's ad. This path does not necessarily match the Final URL above. This link helps customers visualize the website they will come to when clicking on your ad.
Descriptions: Businesses can add up to 2 descriptions, each with about 90 characters. The business can describe the business and the products/services offered in more detail.
Step 7: Payment information for Google Ads
The final step in creating a Google Ads ad is entering payment information. This process is quite simple. Businesses can choose to top up with a credit card or a debit card. Of course, you can also use your business's promo code from Google.
6. CleverAds' Google Ads service
Founded in 2008, until now, CleverAds – a branch of Clever Group has been known as the leading unit in the field of Digital Marketing.
If your business requires Digital Marketing solutions, contact us at cleverads.com.ph for the fastest support.