Adwords Ads – 11 Steps to Run Effective AdWords Ads 2023
1. What is Google AdWords?
Google AdWords is an online advertising solution that businesses use to promote products and services on Google Search, YouTube, and other websites. AdWords advertising allows advertisers to choose specific objectives for their advertising, which can be:
Increase the number of people leaving information
Increase web traffic
With a Google Ads account, advertisers can customize their budget, target and start or stop advertising any time.
Read more:
Google Ads Ads – A complete set of effective ways to run in 2022
What is Google Adsense? Top 5 mistakes when using AdSense
2. Top 4 benefits of effective AdWords Ads
After understanding what Google AdWords is, let us take a look at some of the benefits of running effective AdWords ads for your business.
2.1. Adwords Ads targeting
Targeting gives marketers the ability to show their ads to people with specific interests – specifically, people interested in your products and services – and show them ads that are relevant to your business.
Some online advertising options for more targeted business marketing campaigns:
Keywords: Words or phrases related to a business's products and services, used to show ads when customers search for those terms or visit related websites.
Placement: Show ads on Google search results from pages and sites that are part of the Google Search and Display Network.
Age, location, and language: Choose your customers' age, geographic location, and language.
Date, time, and frequency: Show ads during certain hours or days of the week and determine how often your ads appear.
Devices: Ads can appear on all types of devices, and marketers can fine-tune which devices your ads appear on and when.
2.2 Effective AdWords Ads cost control
Google Ads allows account holders to control how their money spend. There is no minimum. And businesses can choose how much they spend per month, per day and ad. Ad account holders will only pay when someone clicks on their ad.
2.3 Measure the effectiveness
With Google Ads, if someone clicks on your ad, the account holder will know:
Which ads get clicks and which do not
Customer actions after clicking on an ad (buying a product, downloading an app, placing an order, etc.)
The average cost paid for advertising leading to customer phone calls or purchases
Customers' shopping habits (how long does it take to research your product before buying, etc.)"
From the above data, marketers will quickly know where to invest more in the campaign, helping to increase ROI – return on investment.
2.4 Manage Adwords Ads campaigns
Google Ads also provides tools that make it easy to manage and monitor accounts.
If you manage multiple Google Ads accounts, a Client Center (MCC) manager account is a powerful tool that can save time. It allows advertisers to easily view and manage all of their Google Ads accounts from one location.
You can also manage your Google Ads account offline with Google Ads Editor, a free, downloadable desktop application that allows you to make changes to your account quickly. fast and convenient.
With Google Ads Editor, you can download your account information, edit your campaigns offline, and then upload your changes to Google Ads. You can use Google Ads Editor to manage, edit, and view multiple accounts at once, copy or move items between ad groups and campaigns, and undo and redo many changes while editing the campaign.
3. 6 effective forms of Google Ads advertising campaigns
Google Ads currently has 6 different types of advertising depending on the appropriate audience and business and individual purposes, including:
Search ads
Display advertising (Google Display Network)
Shopping ads (Google Shopping)
Video Ads
Universal App Advertising
Smart advertising"
4. Terms Google Ads/Adwords Ads marketers need to know
4.1 Ad Rank (AdRank)
AdRank determines the placement of ads. The higher the value, the better the ad ranks, the more attention will be focused on the ad and the higher the probability that the user will click.
AdRank = maximum bid x Quality Score (Quality Score, see 4.8).
4.2 Bidding (Bidding)
Google Ads is based on a bidding system in which advertisers choose the maximum bid amount they are willing to pay for a click on their ad. The higher the bid, the better the position.
3 options for bidding: CPC, CPM or CPE.
4.3 Click-through rate (CTR)
CTR is the number of clicks on the ad in ratio to the number of views that the ad has. A higher CTR indicates a quality ad that is relevant to search intent and targets relevant keywords.
4.4 Conversion Rate (CVR)
CVR is a measure of form submissions as a percentage of total landing page visits. Simply put, a high CVR means that the landing page presents a seamless user experience that matches the ad's promise.
4.5 Display Network (Display Network)
Google ads may displayed on search results pages or a website in the Google Display Network (GDN). GDN is a network of websites that allows space on their websites for Google Ads – these ads can be text or images are displayed with content relevant to the target keyword. The most popular Display Ads options are Google Shopping and app campaigns.
4.6 Keywords (Keywords)
When a Google user enters a query in the search field, Google returns a series of results that match the searcher's intent. Keywords are words or phrases that match what searchers want and will satisfy their query. You choose keywords based on which queries you want to show your ads with.
For example, a searcher entering "how to clean gum from shoes" will see results for advertisers targeting keywords like "gum on shoes" and "cleaning gum."
Negative keywords are a list of keyword phrases that advertisers do not want to rank. Google will pull you out of bids on these keywords. Usually, these terms are slightly related to your intended search terms but are outside the scope of what you offer or want to rank.
4.7 Cost per click (PPC)
Cost-per-click, or PPC, is a type of advertising where advertisers pay per click on an ad. PPC is not specific to Google Ads, but it is the most common type of paid campaign. It is crucial to understand PPC insights before launching your first Google Ads campaign.
4.8 Quality Score (QS)
Quality Score measures the quality of your ads by your click-through rate (CTR), keyword relevance, landing page quality, and previous performance on the SERPs. QS is a determining factor in your AdRank.
5. 10 Steps to Run Effective AdWords Ads
Step 0: Log in
Visit the Google AdWords ad creation page https://adwords.google.com/
Select "start now"
Sign in to Gmail.
Step 1: Set up a business
Fill in the business name and website in the respective boxes.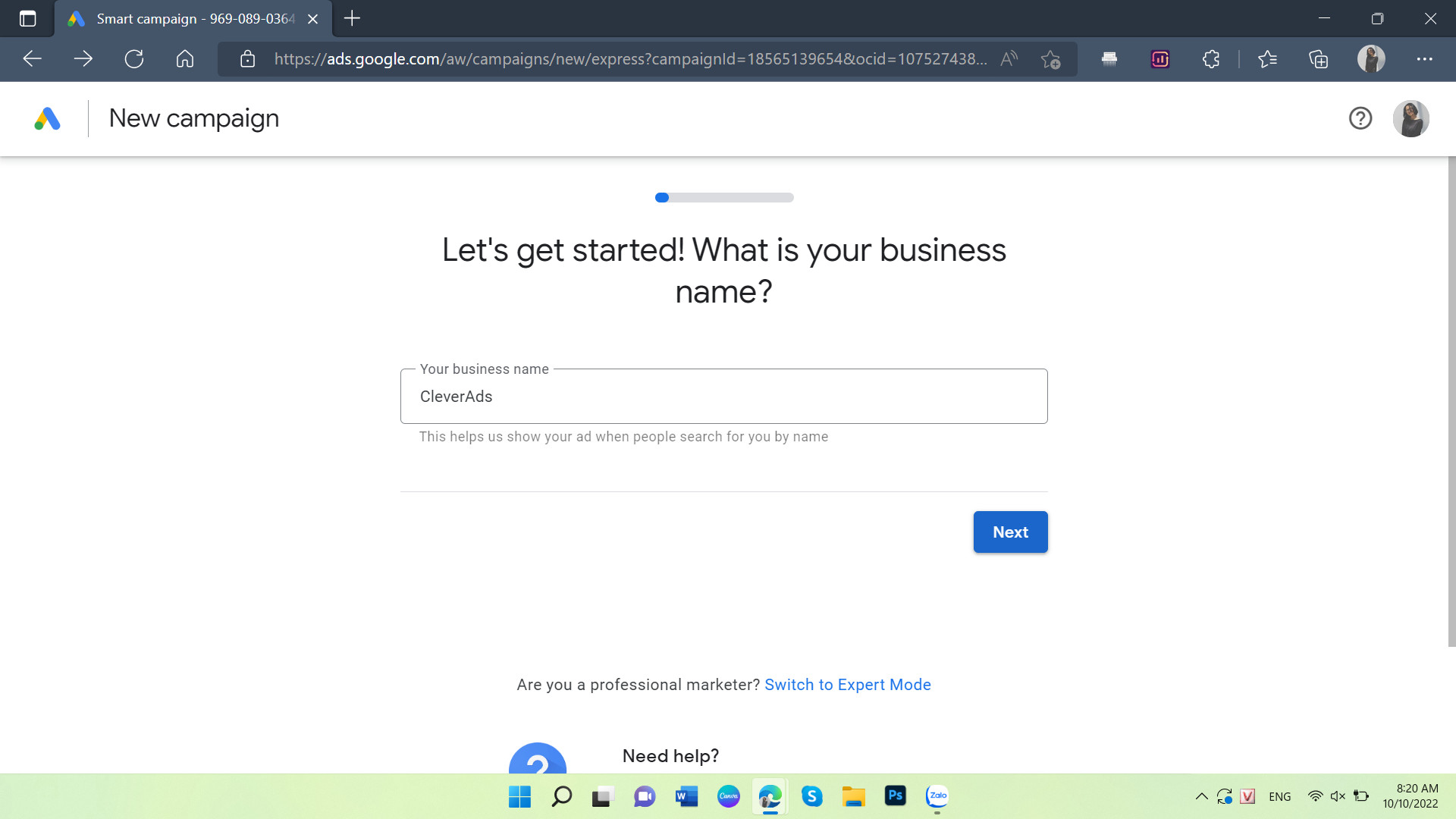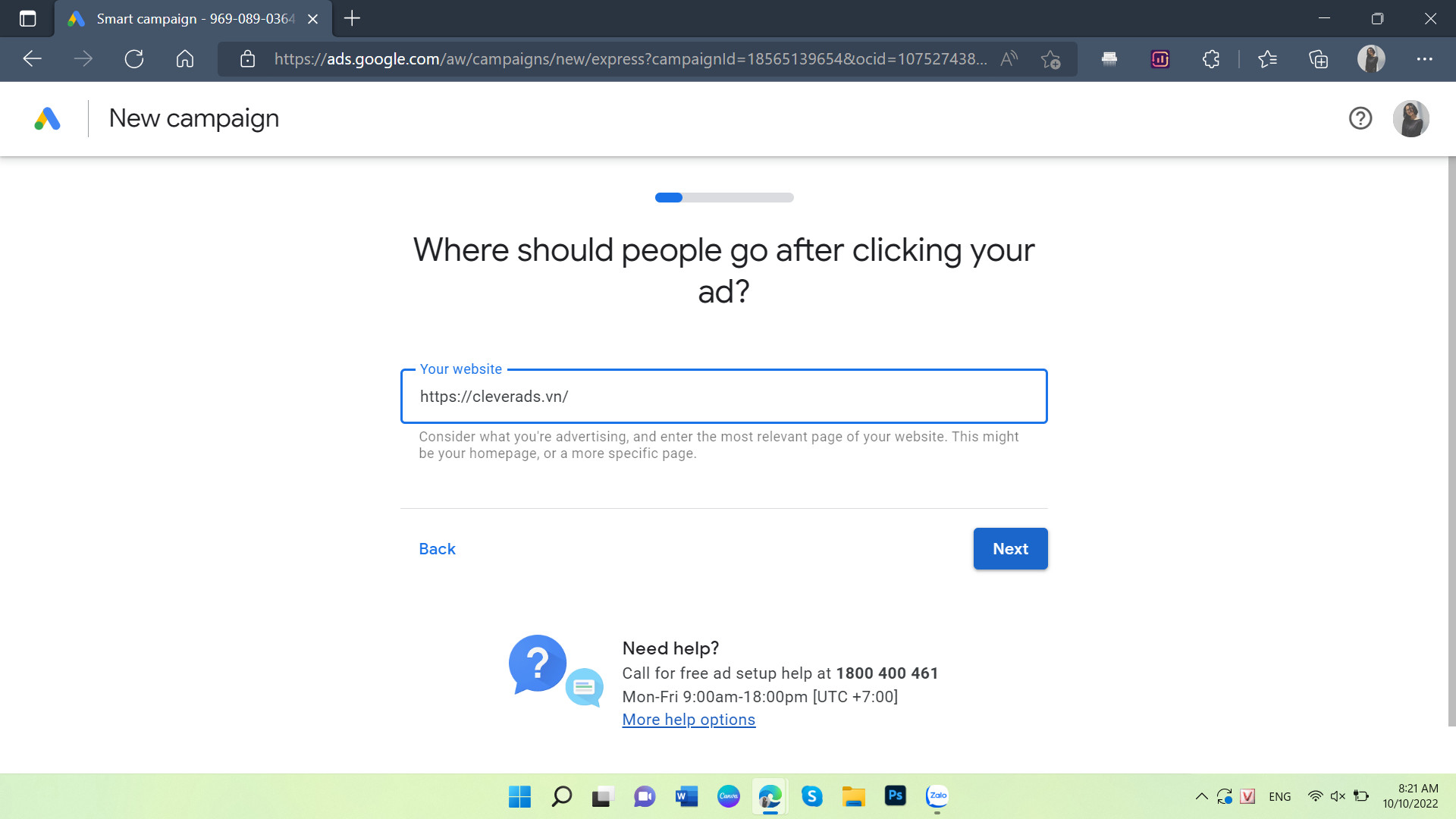 Step 2: Create an ad objective
There are 4 options:
Increase the number of phone calls to the business
Increase website sales or registrations
Increase the number of customers visiting your physical location
Increase views and engagement on Youtube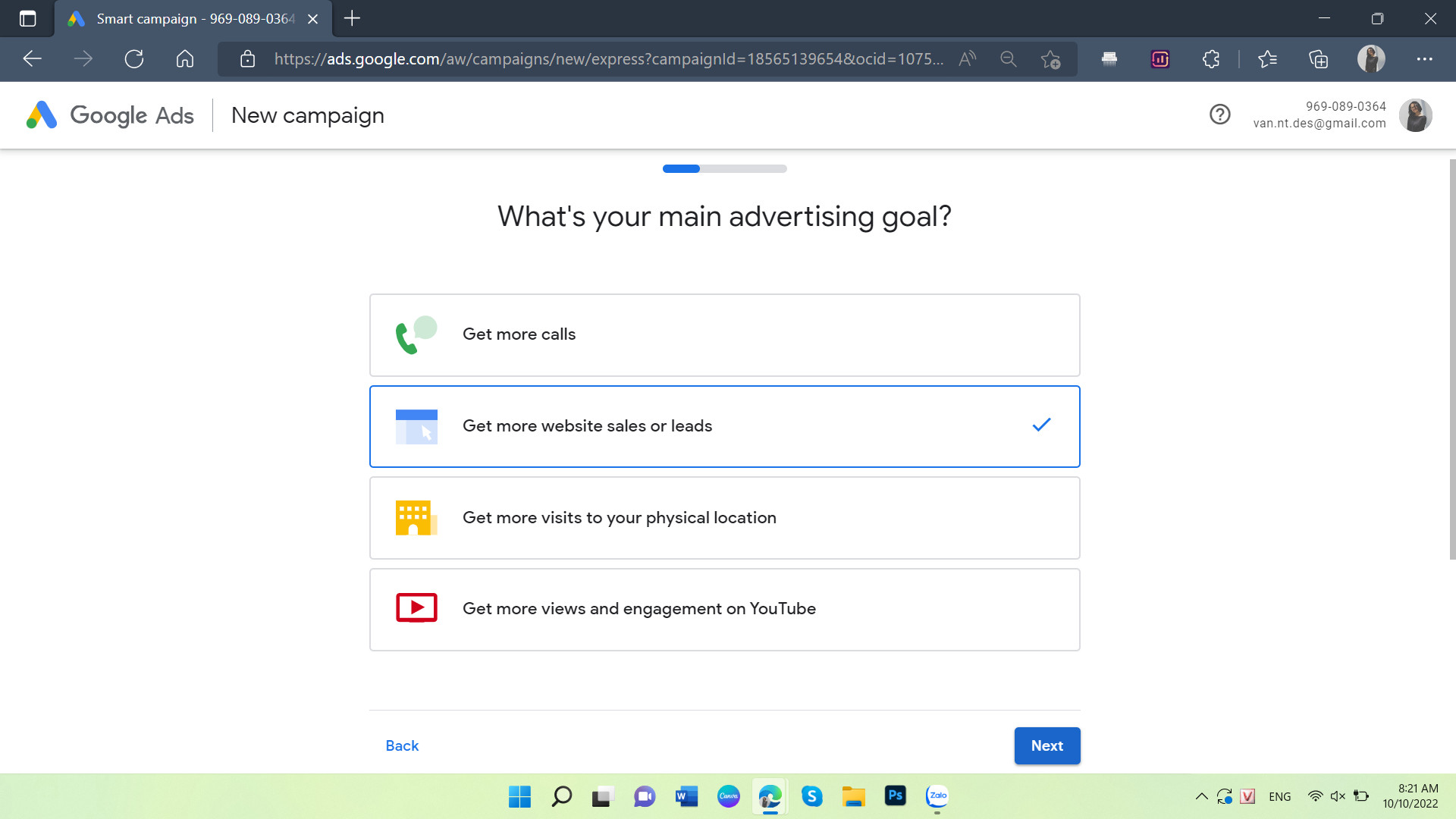 Step 3: Write an ad
Notes for effective keyword ads on Google:
3 titles, each 30 characters long and 2 descriptions 90 characters long, the total length is 270 characters.
Short, full of meaning, easy to understand
No cutouts
The main keyword phrase should appear twice: once in the title and once in the description
Lots of valuable and interesting information
Restrict special characters
Use Interactive CTA Now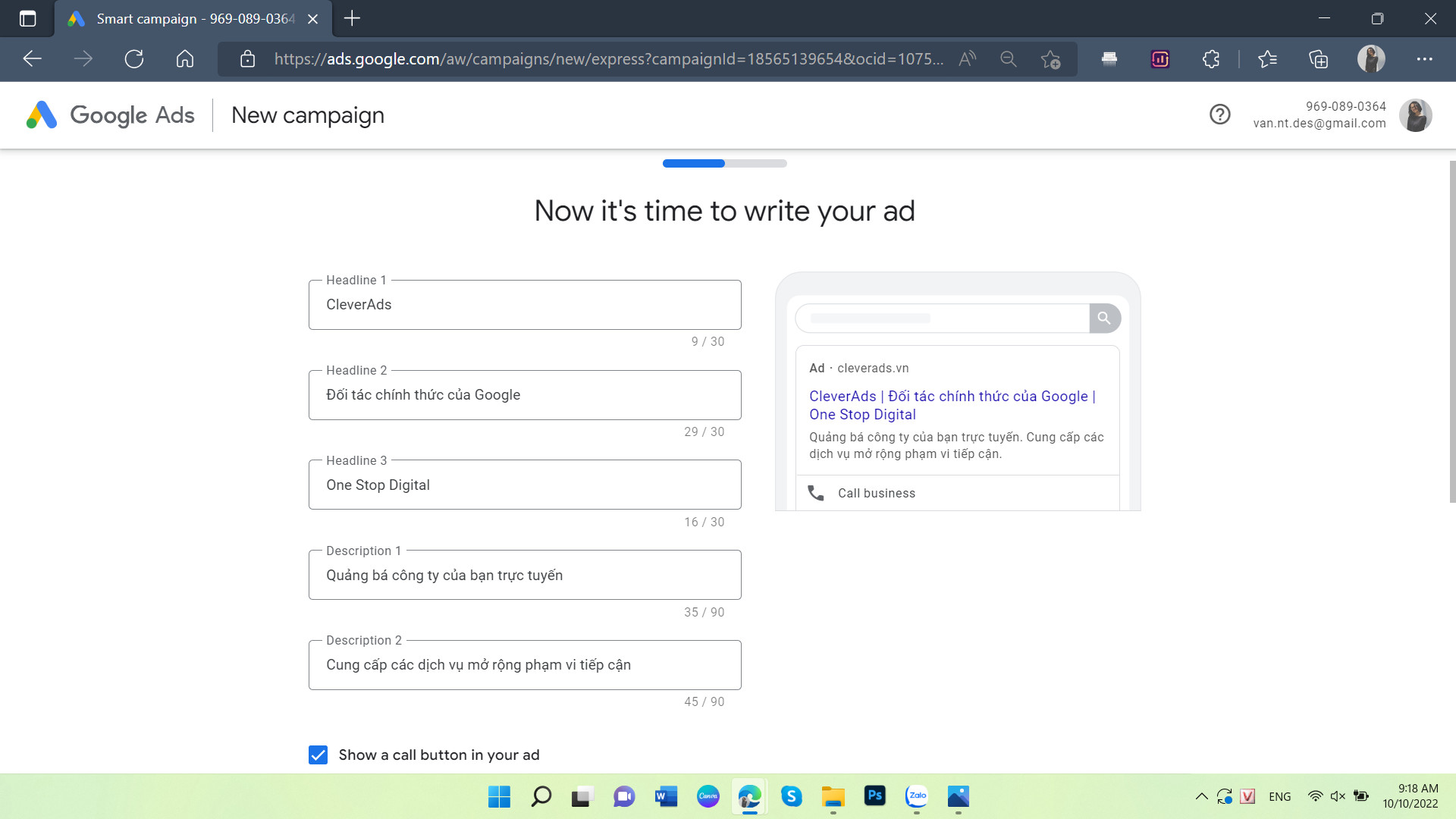 Step 4: Add keywords to the ad
Enter the correct set of keywords with your product name and category in the blank box and press start. You will then get a copy of keyword suggestions, along with bids for you to choose from.
At this step, choose the keyword type according to 1 of 4 match forms:
Broad match
Modified broad match
Phrase Match
Exact match.
Here, select keywords – search terms that can trigger Adwords ads to appear next to the search results.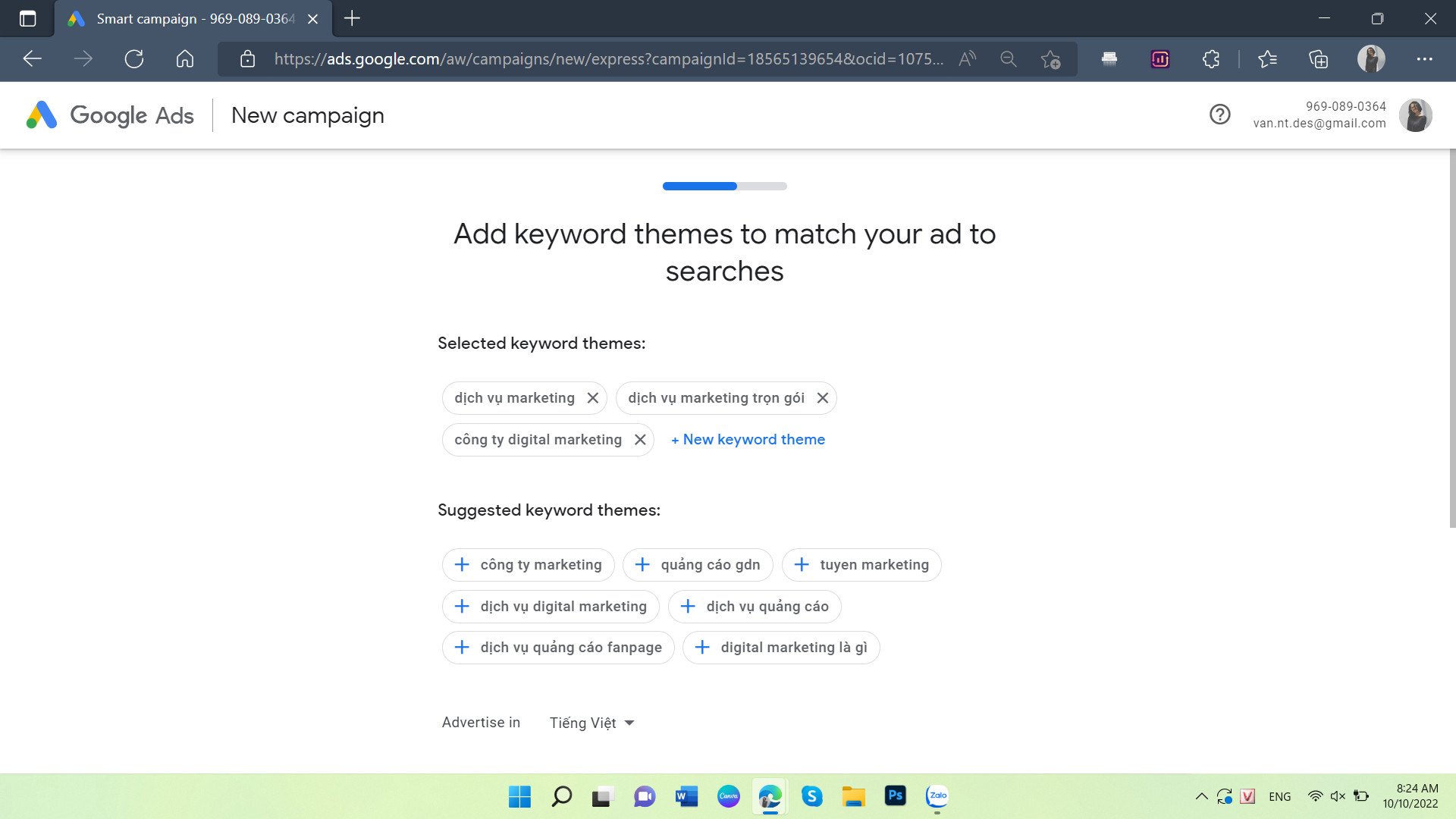 Step 5: Set up ad placement
Establish areas where businesses can provide services
Set up location by radius: Limit geolocation to your radius
Set up custom-specific locations: If you provide services in several different locations or you have branches in several locations far apart you will need to add those locations to this section.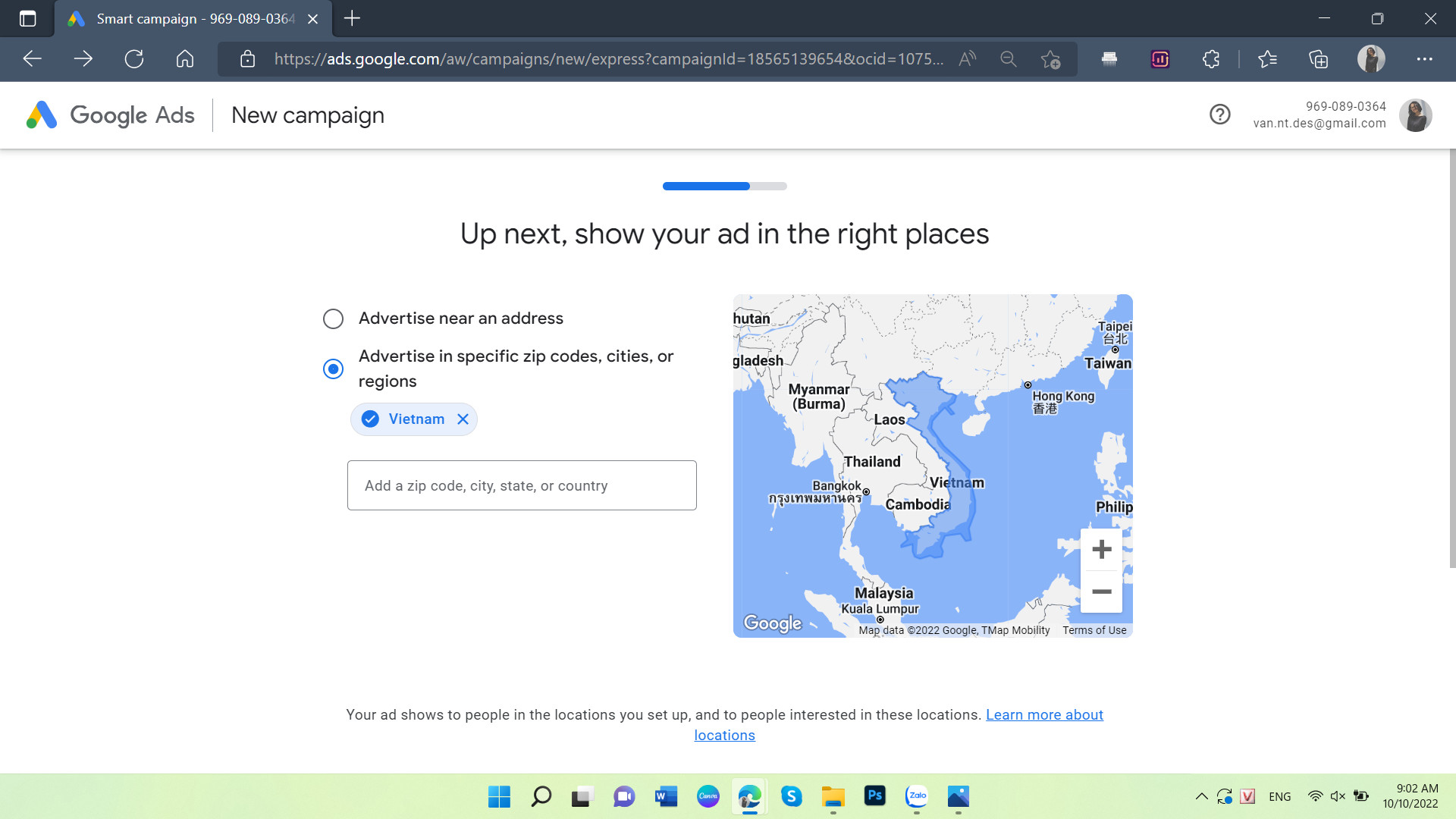 Step 6: Set up an ad payment budget
Set up a payment budget:
Choose an available plan
Or enter the desired amount by the date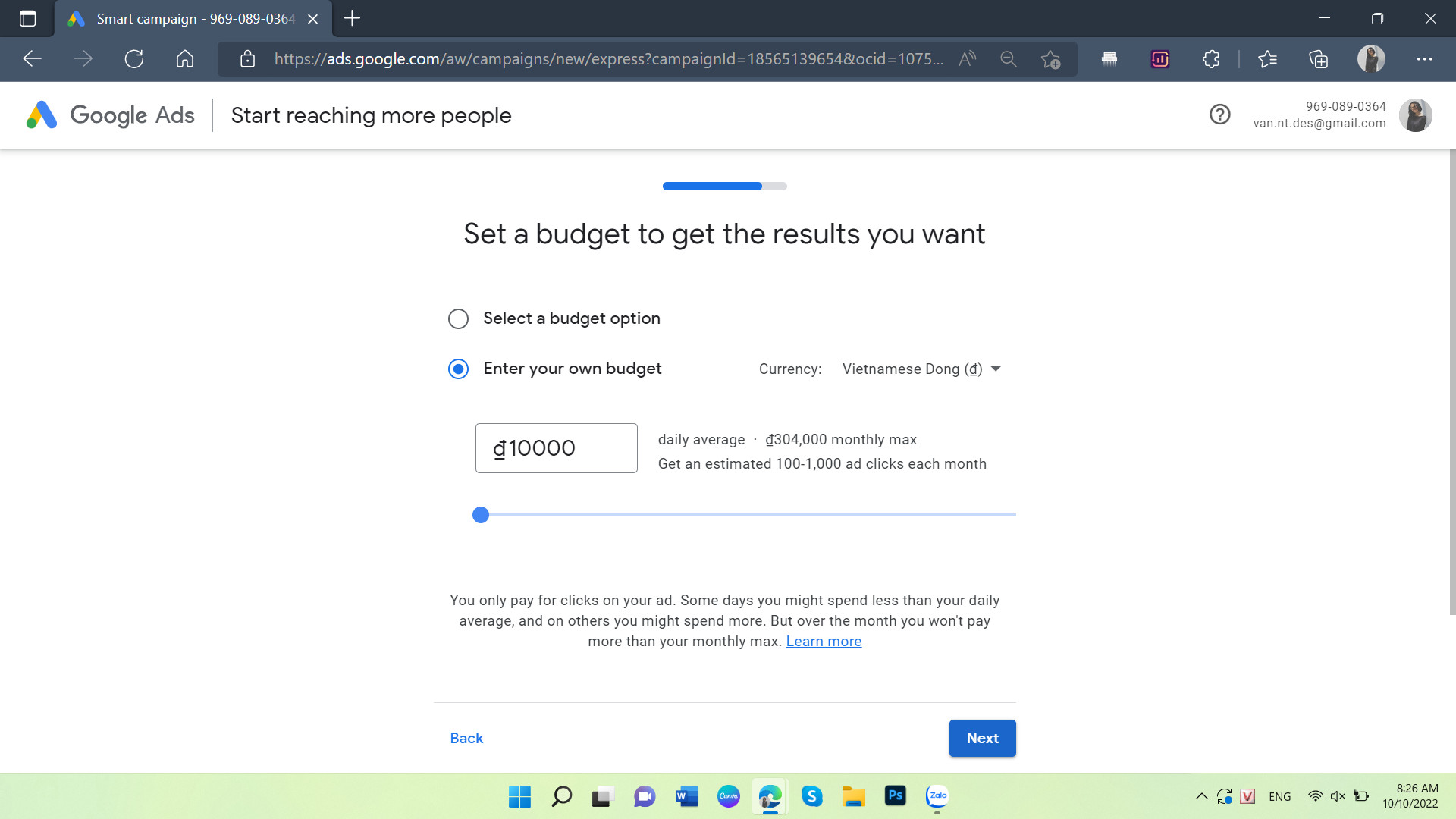 Step 7: Review AdWords advertising information
Check the ad information then scroll down and click "Next"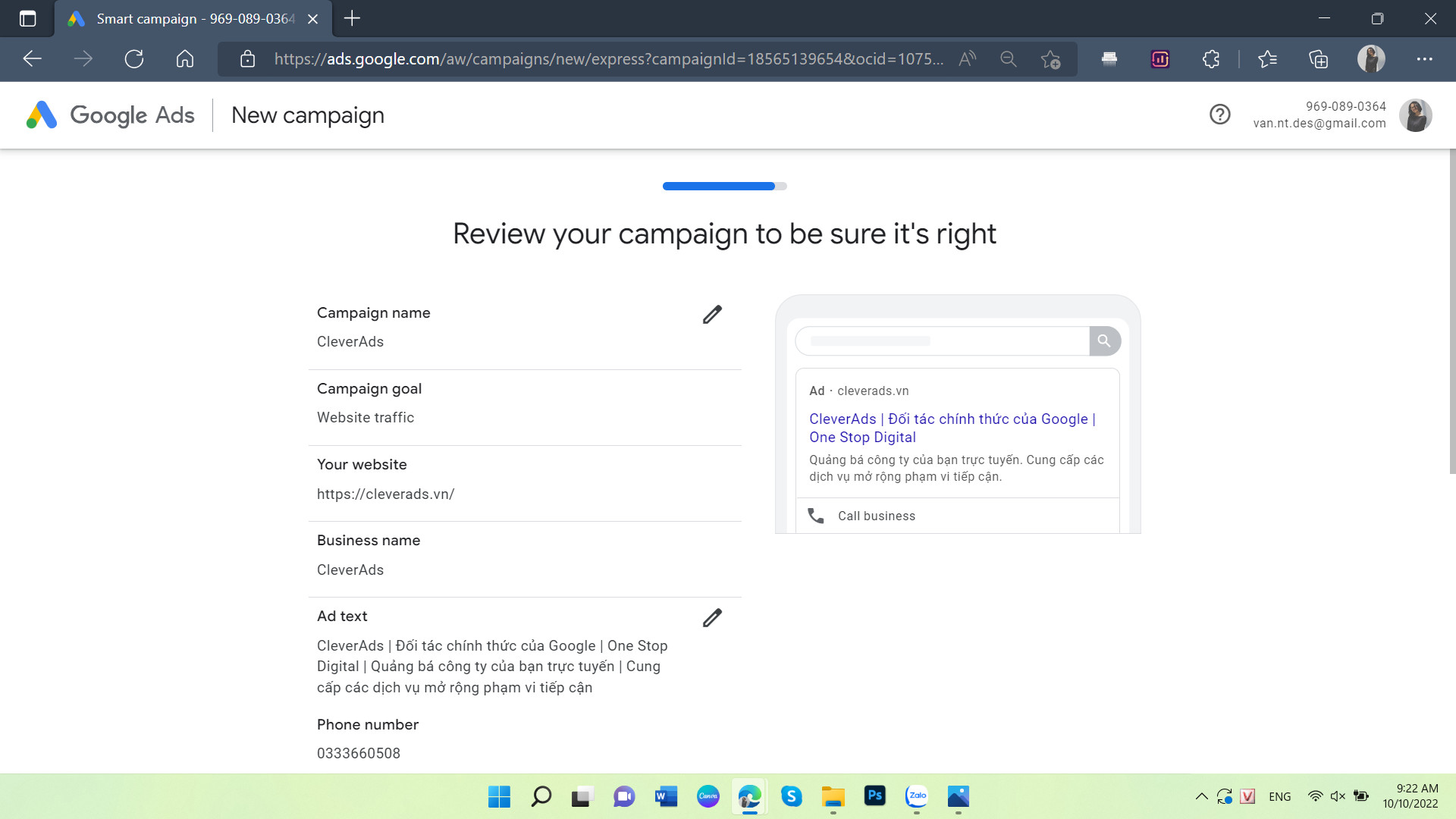 Step 8: Confirm payment information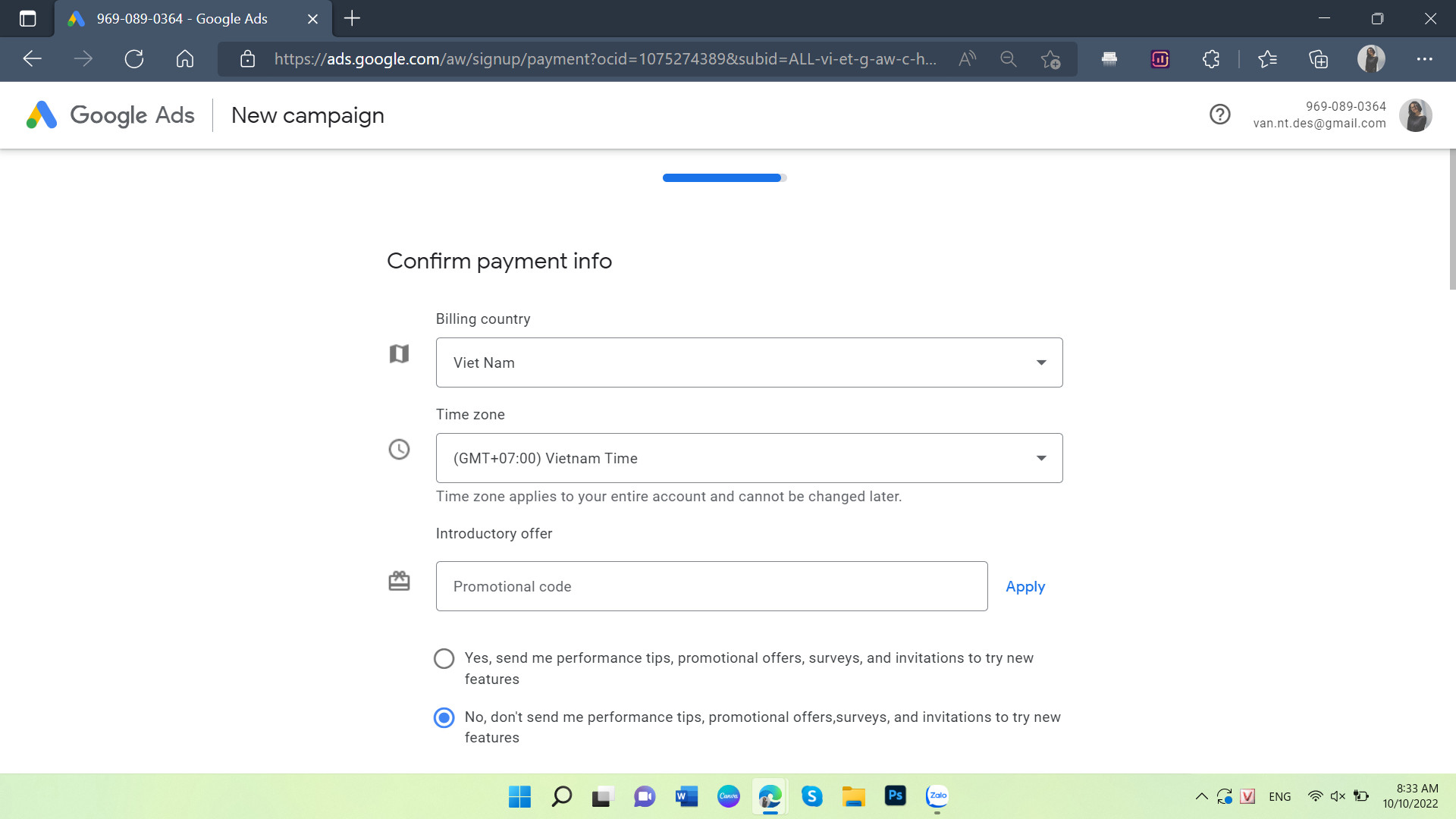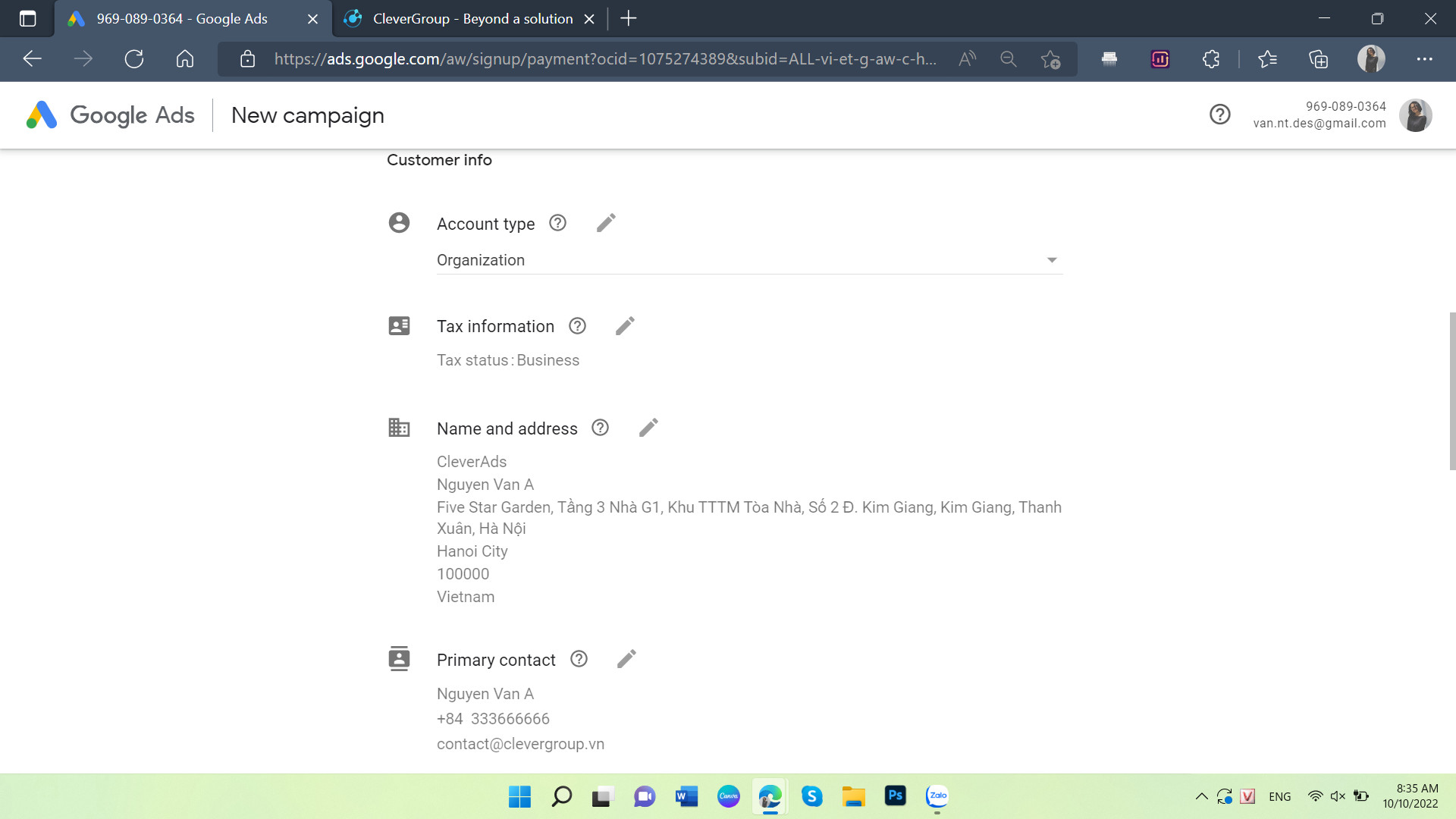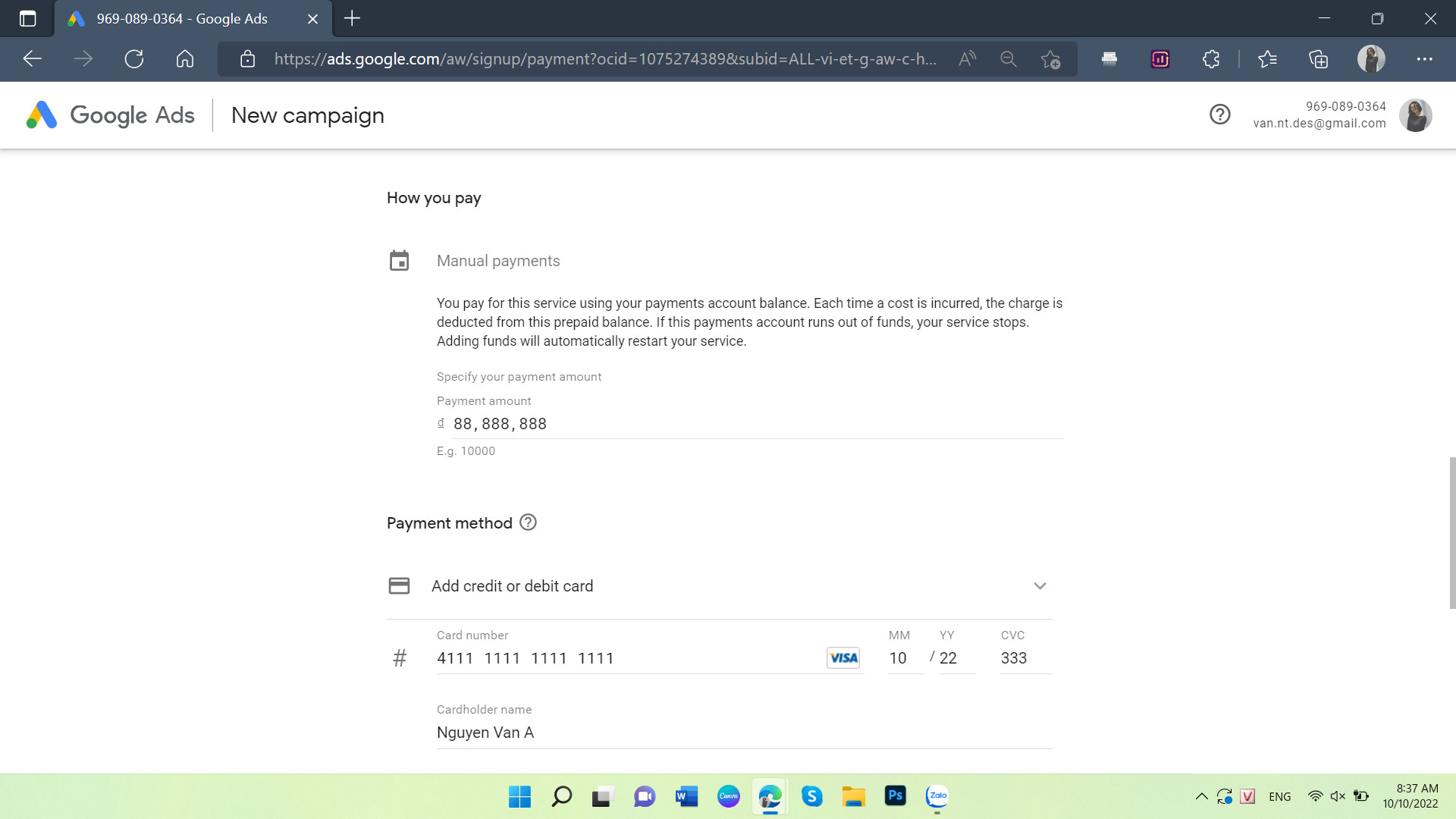 Prepare a bank card for international payment function (visa/MasterCard).
Note: Domestic ATM cards will not have an international payment function, leading to unable to run of Google, and Facebook ads.
Visa/MasterCard cards are divided into 2 types:
Visa debit card: This is a card similar to a domestic ATM in which money must be loaded into the account to be able to use the money in the account.
Visa credit card: This is a credit card with a limit of money in your account for you to use first and pay with the bank later. However, this type of card is very time-consuming and must be verified according to the process, so you should register for a debit card, which will save a lot of time.
Some banks have services: VPBank, Techcombank, etc. When you go to the bank, say you need a Visa Debit card to run Google ads.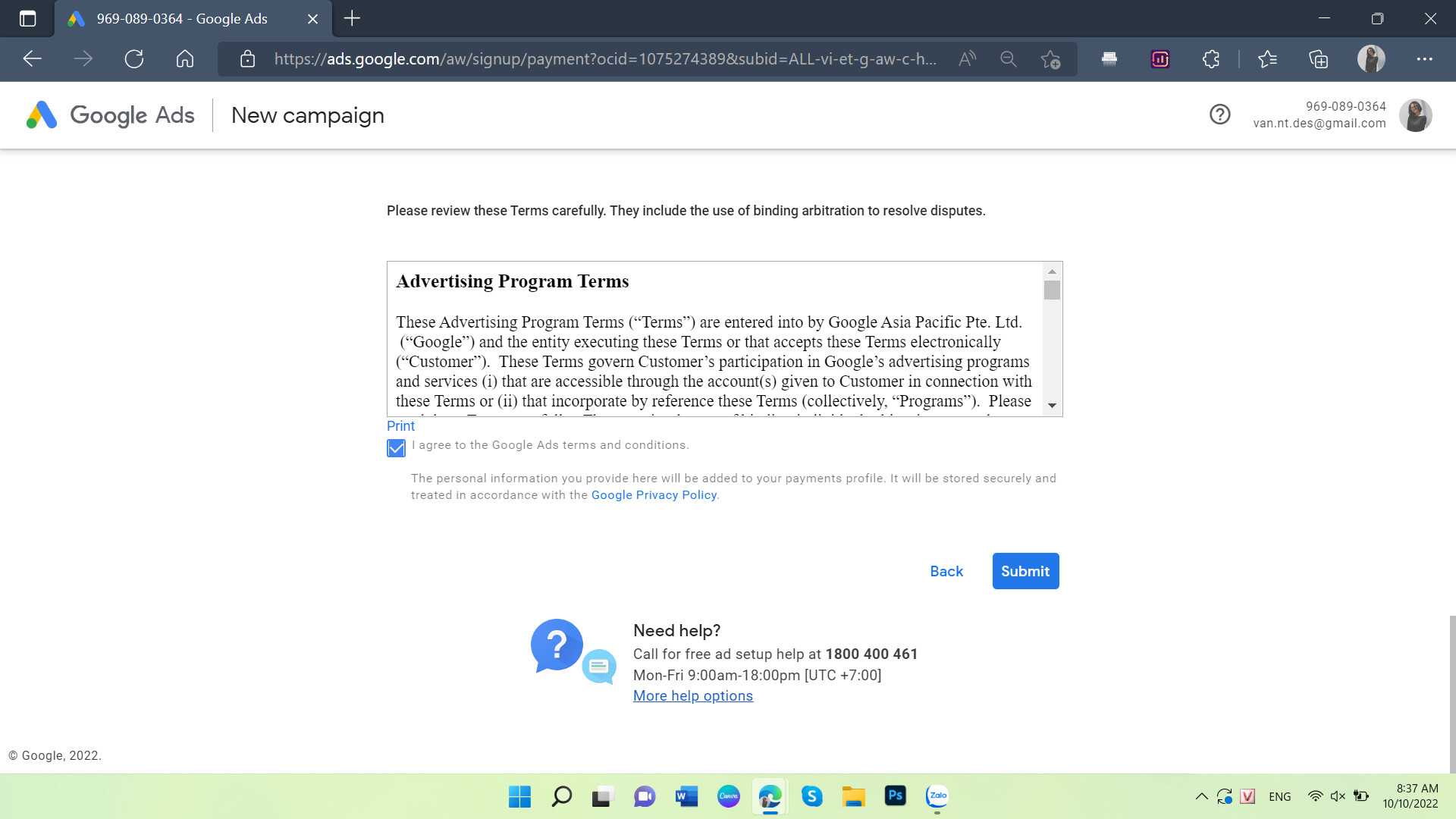 Step 9: Optimize landing page content
Optimizing landing pages will help increase the rate of customers registering to use products and services.
The optimal landing page needs:
True to the needs of the user
Provide enough content
Fast page loading speed
Optimizing across devices
Less pop-up
The impressive title is under 65 characters
Charming Sapo
Bold important parts
Headings and subheadings are visually appealing
Concise content, concise style
Words that match the target audience
CTA matches the reader's journey
Set up detailed conversion tracking and measurement to know what's missing from your landing page content.
Step 10: Set up the remarketing audience (Re-marketing)
It is necessary to pursue users for product remarketing ads because:
The first time they are still in the process of learning and comparing. They need to consult your relatives, rival parties, prices, and after-sales service.
43% of companies use remarketing to increase brand awareness online.
Go to the Google advertising page to get the Remarketing code and install it on your website. When setting up the remarketing audience, every time a user visits your website, the system will save a cookie into a remarketing list and from this list. You can use it to create a remarketing campaign or even create a remarketing campaign.
For the Google search network, you need to have at least 1,000 active visitors or users within the last 30 days. The Google display network (Google display) must have at least 100 visitors or active users within the last 30 days.
Step 11: Monitor and optimize ads
Tracking and optimizing ads is extremely important if businesses do not want money to fall through the window.
About Google ad tracking:
Measure conversions directly from your Google Ads account
Measure Google Ads conversions through the Analytics tool
Optimize ads in 8 ways:
Bid Adjustment
Pause ineffective keywords
Reallocate the budget
Search Query Processing (add or negate)
Schedule ads by time frame
Set device priority
Set geographical area priority
Turn off/Change the ad template (if necessary)"
6. 6 notes to run effective AdWords Ads
6.1 Incorporate elements other than advertising for effective AdWords ads
Whether or not an order can be placed depends on many factors such as:
Product Quality
Corporate reputation
Product/service price
Advertising content reaches the right audience
Google Ads only do the sole task of delivering ads, products, and services to customers with needs and potential audiences. So, if your ad hasn't gone out yet, perhaps you should reconsider all of these factors.
6.2 Regular optimization is required for effective AdWords Ads
For a while, this may be effective, but over time it may no longer be effective. You need to closely monitor the conversion rate, and CTR and optimize many other ads to achieve the best conversion rate.
Optimizing here can be just re-optimizing the title and content of the ad to attract more customers and increase the CTR rate."
6.3 Do not run your ads without understanding how effective AdWords Ads work
Marketers should not self-register advertising with Google to save costs if they are not knowledgeable. It is the act of throwing money out the window.
Need to find a unit that specializes in running ads for guidance, and support to run ads, hire that unit to run ads, and commit to terms of targets, and risks."
6.4 Hire effective and reputable AdWords Ads units
Do not hire units that run cheap Google ads, are not reputable, or have no experience in the business industry. This not only affects the revenue and the website of the business.
4 criteria to choose a reputable advertising agency:
Say no to "black hat" technology tricks that cause harm in the long run
The entire implementation process is planned and reported
Commitment to transparency about data and processes
Strict commitment to the index including the risks
Read more:
List of Top 5 Google advertising companies in Vietnam
Learn about current Google advertising services
6.5 Choose the right target keywords for effective AdWords Ads
Choosing the right keywords helps your ads appear to the right people, avoiding wasting money with keywords that don't match the products the business provides.
6.6 Divide exact keywords for effective AdWords Ads
Advertisers must analyze detailed keyword groups to know the right needs of customers. That will help the landing page satisfy their search needs, improving the ability to convert.
Example: In the image below, the advertiser for the samsung.com web has not split the ad group. To share the same set of keywords for all TV product groups for TV products, the ad does not contain "Sony TV". This will reduce the percentage of customers clicking on the ad.
6.7 Have a good quality landing page for effective AdWords Ads
A good landing page meets the needs of the consumer. For example, when a potential customer searches for the word "price of product X", they are looking for the price of this product. Then the landing page needs to have price content.
The landing page does not contain the price, and only includes advertising information, but the user is interested in the price, so the landing page does not meet the needs of the search query. If the need is not satisfied, the viewer will quickly leave the page and have a bad impression of the brand.
Example: Price keyword but the landing page has no price.
7. Conclusion
Thus, marketers have learned about Google AdWords, the benefits of Google AdWords, and steps and notes to run effective Google AdWords ads. Those are just the most basic things about Google ads, to run effectively, advertisers need to master the theory, start small, and practice combined with practice.
To be sure of advertising effectiveness, businesses can choose a professional advertising agency according to the above criteria.
If your business requires Digital Marketing solutions, contact us at cleverads.com.ph for the fastest support.