Marketing reports help Marketers track effective campaigns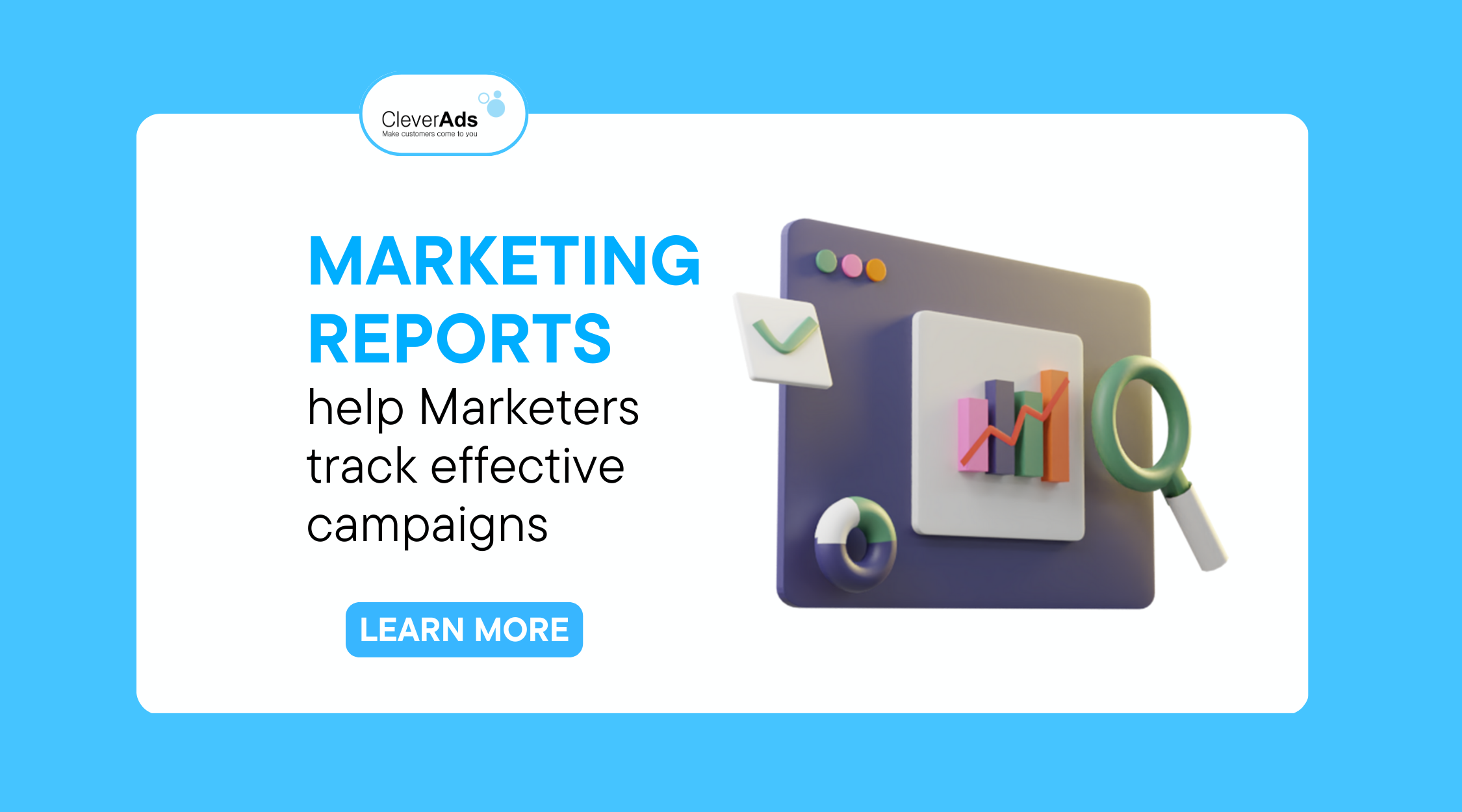 Why are marketing reports so important? What marketing reports are needed to optimize the campaign? Find out with CleverAds in the article below!
1. What are Marketing reports 
A marketing report takes data from different Marketing channels, visualizes it in an easy-to-understand and scientific way, and sends it to the team, customer, or direct manager to help them get the most comprehensive view. About the campaign as well as quickly evaluate the effectiveness of Marketing activities.
Marketing reporting is the collection of data from different marketing channels.
In addition, the Marketing report also allows marketers to quickly and easily understand Marketing performance across all platforms of the business, showing the campaign's feasibility and serious issues that need to be corrected.
A standard Marketing report template will include a form with data processed scientifically, vividly, and easily understood. And the size of a marketing report will vary according to the number of marketing channels and campaigns for which the business collects data or the subject of that report.
In short, Marketing reports are vivid visual summary reports with the general purpose of letting relevant individuals cover all marketing strategies that work following the correct process and offer specific plans for campaign optimization.
2. Why are marketing reports templates necessary?
First, as a marketer, access to information data, including indicators, and marketing KPIs of the proposed campaign, is always necessary. Marketing reports will fulfill all your wishes – all marketing data of your business is continuously monitored.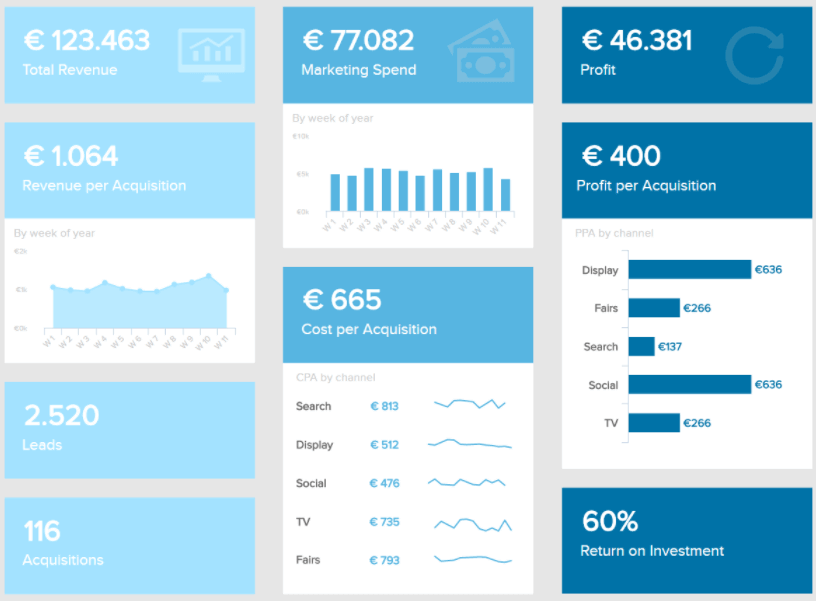 Second, marketing data always has a lot of metrics and data to choose from, and this selection sometimes needs to be clarified, confusing and complicated. Fortunately, marketers can avoid this problem in the first place thanks to choosing suitable marketing report templates.
Finally, the marketing report templates will have specific standards to help marketers make useful reports. The relevant departments can easily track and capture the frequency of use of the data from which to check. Which indicators are still lacking, and which indicators need to be analyzed?
And they are entirely customizable according to the wishes of the marketer.
3. Most important Marketing reports template today
3.1. Marketing report overview
An overview marketing report provides an overview of the campaign.
This great comprehensive template will give you an overview of your marketing campaign. From content marketing to search engine optimization and more, it's all streamlined to make it easy for marketers and stakeholders to capture important information.
Key metrics to include in a marketing overview report have Campaign performance, channel performance by traffic source, conversion rate, goal completions, web visitors, and churn rate.
3.2. Content quality report (Content Marketing channel)
Content quality reports start with turnaround time metrics. These data will give marketers an idea of ​​how long it takes to produce an article, from ideation to publication.
Thanks to these data, Marketers can control the progress, assess the stage that consumes the most time when writing articles or creating content, and then find solutions.
A Content Quality, Marketing report sample also includes high interaction statistics such as likes, shares, or comments on articles/publications. From a combination of metrics, capturing the content your target audience loves and is attracted to is easier than ever. Some report templates also include a legibility rating scale. Adjusting the writing style, language, and style to suit the user is also more convenient for content creators.
3.3. Google Ads Report
The Marketing report template on the Google Ads platform is a report template that every marketer must have. Because until now, Google Ads is one of the mainstream paid advertising platforms.
You can view all the above metrics with Google Ads manager.
The Google Ads report includes keywords, clicks, and lead rate sections. Marketers who rely on Google Ads reports will know which keywords are the most attractive, and what this platform is doing. where to put costs.
The CTR metric (the number of clicks the ad received divided by the number of ad impressions. For example, if you had six clicks and 100 impressions, the CTR would be 6%.) averaged across locations. The point where Google Ads ads appear will provide a benchmark for the set of keywords marketers use. This indicator makes it easier for marketers to evaluate the campaign's effectiveness.
3.4. Report Marketing campaign on Social Media
Marketing on social networks includes 2 areas: paid (like Facebook Ads) and free (e.g., content marketing). Social networks such as Facebook, Twitter, Instagram, Youtube, and LinkedIn are currently the most popular and have a massive following of users.
The key metrics to include in the above Marketing report are Likes and followers, Interactions, impressions, reach, metrics on best-performing posts, and minimum time to build out conversion.
For social media marketing campaign reports, the alignment and clarity of information are essential. They will help viewers quickly evaluate and, if necessary, make adjustments and changes.
3.5. Report on website performance
A practical tool to track customer behavior on websites is Google Analytics. This tool's data is essential for marketers when making reports on website performance.
With this report, data will include bounce rate, total visits, new users, time on site, number of people converting to purchase, and conversion rate.
The timeline of these statistics can be in days, weeks, months, quarters, or years, and marketers will easily recognize changes and determine their trends. In addition, the above report also includes information related to the geographical area where the customer is located. Thanks to that, we will study where to invest the budget and when is the right time.
3.6. SEO Report
SEO is an integral part of any long-term marketing strategy.
The SEO report will provide information about the position and effectiveness of clicks on each set of keywords on the Website and the position of the articles posted on Google.
Sample SEO Marketing effectiveness report on Google Search Console
The information gathered from SEO reports is a considerable amount. It takes a long time to produce results, leading to their specificity. However, they help businesses identify which keywords attract customers to visit the Website, the change in the ranking of the articles, the geographical location of the customer, and the rate of change in traffic. What is the impact of current SEO techniques?
Metrics from Google Analytics, Google Search Console, and others are the components of an SEO report that you can pull from.
4. Conclusion on Marketing reports
Conclusion Marketing report is vital today for those working in the marketing field. Above is information about the report templates that marketers should pay attention to. Businesses can choose the appropriate report depending on the nature of the marketing campaign, with expertise in brand marketing on digital platforms.
If your business requires Digital Marketing solutions, contact us at cleverads.com.ph for the fastest support.